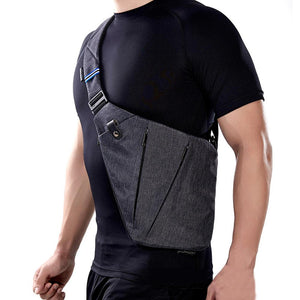 Product Description:
SIZES: 13.4 x 11.2 x 1 inch, Lightweight only 0.6 pounds, Fits Up To 7.9 Inch iPad Mini & Kindle.
MATERIAL: The polyester fabric material feels nice to the touch. Should clean easily with damp rag if needed. Color is perfect won't show dirt easily.

DESIGN: Very minimalistic and streamlined. This bag is perfect and stylish, especially the outstanding slim design of the product.

FEATURES: Recommend this if you're always on the go and need an extra set of pockets. Anti-thief and purse organizer for portable charger, earphone, phone, and tablet. Designed for airport convenience. Great product for runners, college students, cycling walking dog hiking men women.

COMFORT: Fit you perfect right out of the box. Very good quality, very comfortable shoulder. Easy to take off and on again. It's great to keep under your coat, close to your body.