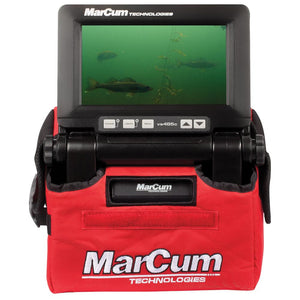 VS485C Underwater Viewing System - 7" LCD Color
At MarCum Technologies, we set some mighty lofty goals. One of them has been to engineer the ultimate underwater viewing system. Prior to MarCum's underwater camera mission, much of what was happening below the surface was left to the imagination. Underwater cameras existed in raw form, but the color and clarity usually left something to be desired. Rich, full color, the highest definition viewscreen and optics possible, and a complete array of on-screen displays and adjustments make this system the new industry standard in underwater cameras. From Midwest farm ponds to reefs and wrecks in the Gulf of Mexico, these systems really do reveal lunkers and their secret locations- wherever fish swim, MarCum swims right there with 'em. See for yourself.
The MarCum® VS485C underwater viewing system proves that top-of-the-line performance doesn't have to come with a top-shelf price tag. With a 7", high-resolution flat-panel LCD screen with 800 x 480 pixel resolution, and an industry-best Sony Super HAD II CCD 1/3" Image Sensor 01 Lux Camera, the VS485C system provides an underwater viewing performance that, dollar for dollar, is unmatched by any other ice-fishing camera system available today. Fishing in clear water under bluebird skies? Use the VS485C in full-color mode to see the underwater world the way nature intended. Fishing in stained water or in low-light conditions? Color Kill Technology allows you to switch over to black-and-white mode for an amazingly crisp and clear image.
Features:
7" Widescreen Flat Panel Hi-Res Monitor features switchable color and BW LCD Video Out
Resolution: 800 x 480 pixels
Sony Super HAD II CCD has 1/3" Image Sensor and Darkwater LED Lighting
50' Camera Cable
Includes Soft Pack Shuttle, Sun Shield, 12V 7-Amp Rechargable Battery, 3-Stage Battery Charger and Down-View/Stabilizer Fin
One Year Warranty
Sony Super HAD II CCD, the most powerful low light capable image sensor produces unmatched image quality. 1/3" image sensor .01 lux camera, with 75' of cable
High resolution flat panel LCD delivers superior screen detail. 8" Flat Panel, Hi-Res, 800 x 600 pixel resolution
Color Kill Technology affords the best possible image in color and black and white. Switchable Color/BW LCD

WARNING: This product can expose you to chemicals which are known to the State of California to cause cancer, birth defects or other reproductive harm. For more information go to .