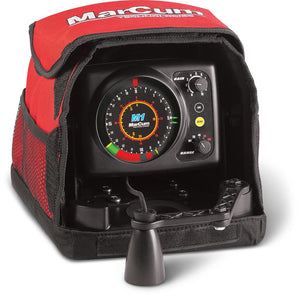 M1 Flasher System
The most advanced flasher-sonars ever built, the MarCum® "M" Series offers brushless, dead-quiet operation with dazzling bright and crisp color definition of bottom, fish, baitfish and your lure, all illuminated on the highest resolution display available in a commercial grade flasher. With advanced features like split screen zoom, patented interference rejection and 1000 watts of expertly managed output power you'll always know if you're angling for a school of bait fish or the "catch of the day".
Features:
TrueColor Patented MBC Brushless Lighting Display
1000 Watts Peak to Peak Output Power
20 Degree Ice Transducer
2" Target Separation
Patented Multiple Step Interference Rejection
Split Screen 5' Bottom Lock Zoom
Selectable Depth Ranges – 20', 40', 80', 160'
Includes:
8 ft. Transducer Cable
Rechargeable 12V 7-Amp Battery
3-Stage Automatic Battery Charger
Deluxe Padded Red Soft Pack
Two Year System Warranty

WARNING: This product can expose you to chemicals which are known to the State of California to cause cancer, birth defects or other reproductive harm. For more information go to .