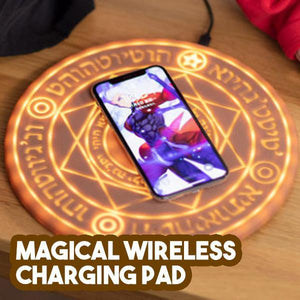 🧙🏻‍♀️Charge Your Phone with this Magic Array🧙🏻‍♂️
🐥DON'T MISS THE EARLY BIRD PROMOTION! 🐥
This Wireless Charging Pad gives you a Magical Anime Charging Journey. Say goodbye to tangled wires and lost charging cables. With the magical protection, your phone will not juice out anymore. 
🌟Feature🌟
Suitable for most of phones and tablets

 ( Please make sure your device have wireless charging function).
With non-slip silicone for stable placement of your device.
Adopts smart identification system, just put down to charge.
Short-circuit protection of the receiver to avoid overcharge & overheating, security and reliable.
Note:  Will not work  If your device don't have wireless charging function
🌟Specification🌟
Input: 5.0V
Output: 5W
Dimension: 25cm x 25cm x 1.5cm
Port: Type-C / Micro USB
🌟Package Included🌟
1X Magical Wireless Charging Pad