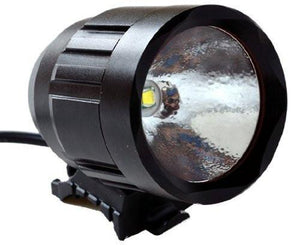 CLEARANCE
You don't have to spend a fortune to get a quality bicycle light. The TrailBlazer TB-1000 bike headlight puts out up to 1000 lumens, giving you plenty of visibility for trail riding and racing at night. It's made with a durable, waterproof casing and a Cree LED, so you get years of dependable use.  
Cree XML-U2 LED and high-efficiency orange peel reflecting cone provide maximum light output with a bright hot spot in the center and ample side-fill
15-degree beam angle allows you to see what's around you as well as what's directly in front of you
Includes bar mounts for standard and over-sized bars and a helmet mount, so you can mount it where you want it
Also includes extension cord for the battery back, allowing you to stash the battery pack in a hydration pack when you're using the helmet mount
Battery indicator uses different colored lights under the power button to notify you how much battery life you have left
Box includes: Trailblazer 1000 headlight, battery pack, 2 O-rings for mounting, helmet mount strap, charger and carrying pouch
The Lumintrail TB-1000 Trailblazer comes with a 4 stage power meter. As the battery depletes, the back lit switch button will change color from Green-Blue -Red-Flashing Red.
Green 100%-75%
Blue 75%-30%
Red 30%-5%
Flashing Red < 5%
Specifications:
Light color: Black
LED: XML- U2
LED lifespan: above 50,000 hours
Max output: 1000 lumens
Beam angle: 15 degree
Lens: Anti-reflection toughened optical glass lens, scratch resistant
Reflector : High efficiency orange peel reflector, excellent throw and side spill
Modes: 3-level adjustable brightness, flashing and over-heat protection functions
Output levels: Max: 1000 lumens Medium: 580 lumens Low: 260 lumens
Run-time: (with Lumintrail 5.2Ah battery pack) Max: Nearly 4 hours Medium: 8 hours Low : 14 hours Flash: 10.5 hours.
Power indicator: 3-color/4-modes LED indicator to display battery capacity
Battery capacity/Voltage: Lumintrail 5.2 Ah, 8.4V (4X18650 Li-ion battery pack, waterproof designed)
Charge time: 4 hours (Lumintrail 5.2Ah battery pack)
Charger: 110 Volt to 240 Volt
Shell material: 6061-T6 Aluminum alloy
Surface treatment: Premium Type III hard-anodized anti-abrasive finish
Waterproof grade: IPVI
Weight : 130G without battery pack, 370G with battery pack
Package Includes: light head, battery pack, charger, helmet mount, extension cable, O-rings
Mode Selection:
Turn on: press the power button
High/Medium/Low: with the light on, press the power button to cycle through brightness levels
Turn off: hold the power button
Flash: with the light off, hold the power button for 4 seconds