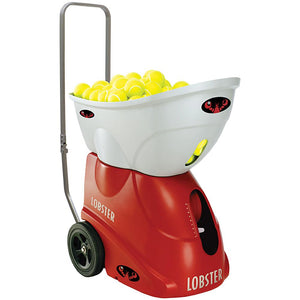 The Lobster Elite Model 3 with basic charger boldly surpasses features available on any other portable tennis ball machine! Providing the unparalleled triple oscillation found on Model 2, the Elite Model 3 offers a narrow and wide, two-line drill feature. The Lobster Elite 3 is one of the world's most popular ball machines and it simulates match play with horizontal and vertical oscillation together with two versatile, pre-programmed options for narrow and wide forehand and backhand sweeping shots.
That's not all! Combine vertical and two-line oscillation to adjust the depth of your two-line drill.
With the most comprehensive oscillation features of any ball machine, the Elite Model 3 is the perfect tool to improve and advance all aspects of your game.
Ideal for intermediate to advanced players. The Elite 3 is perfect for professional instructors, coaches, and multiple player families.
Oscillation: Random, Horizontal, Vertical, Horizontal and Vertical
Two Line Feature: Narrow and Wide
Speed: 10-80 mph
Spin: Top/Back
Feed Rate: 2-10 Seconds
Battery Life: 3-4 Hours
Elevation: Electronic, 0-50 degrees
Weight: 44 Lbs.
150 Ball Capacity.
Storage Dimensions: 24 x 16 x 19 inches.
Ready Dimensions: 24 x 16 x 31 inches.
2 Year Warranty - Parts & Labor (Unless Misused)
1 Year Warranty - Accessories
6 Month Warranty - Battery & Replacement Parts
Long life. Designed for maximum durability to meet the most demanding players needs. The Elite comes with a two-year warranty including parts and labor. Standard 4-6 hour battery playing time and convenient battery life indicator makes travel and play easy anywhere anytime. The Elite's ergonomically designed oversized wheels and handle were created for easy transportation, while the hopper stores in a reverse position to fit in your car's trunk.
Enhance your life. Live longer. Play harder. Every hour of play dramatically improves fitness levels and conditioning with our random horizontal sweep, 2-12 second ball feed and spacious 150-ball capacity. By hitting 750 balls per hour, you'll condition, strengthen, and improve your health significantly.
Enjoy life. Improve your game while having the time of your life. Return piercing 80 mph ground strikes and sky-high lobs. The Elite's heavy top and backspin will give you "that" competitive edge to reach new heights in your game.
Don't forget the
Don't forget the
Note: Larger items like court equipment, and tennis ball machines (often made to order) may not be stocked in our Baltimore warehouse. These items are carefully assembled and shipped directly from the manufacturer. Please give us a call if youd like to pick this item up from our store so we can check availability and prepare your order.
California State Tax Note: The Lobster Elite 3 Ball Machine is built-to-order and shipped directly from California, therefore all shipments to California must pay applicable CA state sales tax.