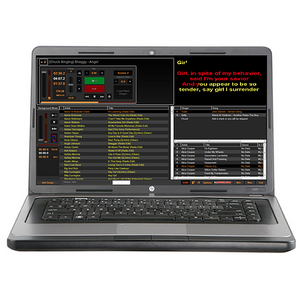 YAMAHA KARAOKE SYSTEM DBR15
Karaoke Laptop with KJBASIC Software 
WE HERE AT LIGHTYEAR MUSIC HAVE TAKEN THE BEST OF ALL WORLDS OF COMPUTER PROGRAMING IN BOTH THE DJ & KJ WORLD.  WE TURNED THE ENTERTAINMENT BUSINESS INTO SOMETHING THAT ANYONE CAN DO TO THE FULLEST EXTENT.  THE SKY IS THE LIMIT WITH OUR BRAND NEW KJBASIC SOFTWARE.  KJBASIC HAS ALL THE FEATURES YOU WILL NEED AND MORE WHILE MAKING IT EASY FOR YOU TO UNDERSTAND.  THANKS TO OUR TECHNICIANS EVERYONE HAS JUST BECOME A DJ!!!!!!!
FREE Professional installation of both Karaoke and Disc Jockey software on the Laptop
FREE VGA CONVERTER BOX (so your laptop can hook up to any TV or Monitor)
FREE LAPTOP AUDIO CABLE (Cable from your mixer to your laptop)
FREE MP3G CONVERSION SOFTWARE  (this software will allow you to automatically Convert your CDG's directly into the software)
FREE PC TO PC SUPPORT SOFTWARE (to help you from our location by logging in directly into your computer)
FREE ANTIVIRUS SOFTWARE INCREASED TO 1 YEAR
FREE OUR UNBEATABLE LIFETIME TECH SUPPORT PROGRAM!!( Unlimited phone support help line)
FREE MEDIA PLAYER SOFTWARE ( allows you to play cdg's in the cd rom tray (EXTERNAL) making your laptop a CDG Player!!
Free Karaoke CDG Burner Software (to make copies of Karaoke discs!! 
FREE We will load all drivers for your mixer if you call us and let us know what mixer you're using.
Karaoke Laptop Designed for Karaoke and DJ Gigs. Massive 1 Terra Byte Hard Drive, Powerful QUAD Core Processing, Supports Dual Video Displays, and includes Karaoke Software and DJ Software.
Computer Components:
QUAD-Core Processor
AMD A8
8 GB RAM Memory
HD Graphics Card Designed for Karaoke and DJ
Touch pad with on/off button and 2-way scroll pad
DDR3 Memory
Specifications are subject to change due to improvements.
Display:
15.6" High-definition LED with Bright View technology (1366 x 768)
Dual-display support, run PC DJ while your singers are performing to lyrics on the TV
Storage Devices:
1 Terabyte  Hard Drive (1024 Gig) for 200,000 song capacity " The Largest Karaoke Hard Drive on the Market"
Interface Ports:
USB ports connectors Yes
1 15 pin D-sub connector for external VGA monitor
1 RJ-45 jack for Ethernet LAN
1 DC Power In jack
1 HDMI Port
Integrated Audio:
1 1/8" mini-jack stereo for external speakers or headphones (line out)
1 1/8" mini-jack for external microphone input
Built-in speakers
Communications/Networking:
Wireless B+G+N
Integrated 10/100Mbps Ethernet
Power:
6-Cell 47WHr Lithium-Ion Battery
Energy Star Qualified
Mechanical:
Dimensions: 14.72"(W) x 9.70"(D) x 1.25" (min H)/1.44"(max H)
Weight: 5.5 lbs.
Software:
Latest release of PCDJ Karaoke Software featuring a built-in song book creator
Windows 7 Home Premium 32 bit including all other Windows updates installed the week it ships
Adobe Reader, Adobe Flash; Cyber link DVD Suite and more
Can this Karaoke Laptop be upgraded to to have Both DJ and Karaoke Software..
Included Accessories:
Owner's manual installed on computer
CD with drivers and utility software (EXTERNAL)
AC Adaptor/Re charger
Limited Warranty:
Warranty - Manufacturer's one (1) year parts & labor
Karaoke Software
Yamaha MG10XU 10-Channel Stereo Mixer with Effects
The MG10XU from Yamaha is a compact ten-input mixer with built-in effects for performances, lectures, recordings and similar applications. The mixer features four mic/line combo inputs with D-PRE mic preamps as well as six 1/4" line inputs with stereo level controls. It also features USB connectivity and is capable of providing two channels in and two channels out to your computer at up to 24-bit / 192kHz, ideal for recording live performances, demos and more.
Each of the four mic/line inputs is equipped with a 3-band EQ, pan control and a high pass filter. The four D-PRE mic preamps feature an inverted Darlington circuit and switchable 48V phantom power for use with dynamic and condenser microphones. They also each feature 26dB attenuation switches for recording loud sound sources such as guitar amplifiers.
The MG10XU mixer has stereo XLR and TRS outs for connecting to your PA system or monitor speakers. It also has a 1/4" headphone output with level control for personal monitoring, as well as additional TRS 1/4" stereo monitor outs for sending to powered speakers, amplifiers or devices such as digital recorders.
Each of the MG10XU's channels feature a dedicated FX bus send level and there are 24 effects presets to choose from. The overall level of the FX bus is controlled by the dedicated FX return level control. Providing reverbs, delays, phaser, flanger, chorus, tremolo, auto-wah, distortion and more, these effects can be used to help vocals and instruments sit better in your mix.
Yamaha MG10XU Highlights:
4x Mic/Line Combo Inputs
6x 1/4" Line Inputs
2-In/2-Out USB Up to 24-bit / 192kHz
Built-In FX with 24 Presets
XLR and TRS 1/4" Stereo Outs
TRS Monitor Outs
"D-PRE" Mic Preamps with 48V Phantom
HPF & 3-Band EQ on Mic/Line Inputs
1/4" Headphone Output with Level Control
USB Works with PC, Mac and iOS
USB works with PC, Mac and the iPad (2 or later) through the Apple iPad Camera Connection Kit / Lightning to USB Camera Adapter
Includes Cubase AI DAW software (download) Three stereo channels made up of six 1/4" line inputs (two stereo channels also have RCA inputs) 3-band EQ on channels 1-4 and 2-band EQ on channels 5-10 Pan control on each channel FX level on each channel also feeds to TRS FX send for routing to devices such as external FX units or monitor mixers One-knob compressor on channels 1 & 2 to smooth out the dynamics of vocals and instruments to help them sit better in your mix
Yamaha DBR15
1000 Watt Powered Speakers
The DBR15 represents a perfect balance of size and performance, with 1000W of power and outstanding resolution at any output level. Ideal for front-of-house, floor monitoring applications or even the stage side fills, the DBR15 is an ideal choice for a wide range of applications.
General specifications
Speaker type     2-way, Bi-amp powered speaker, Bass-reflex type
Frequency range (-10dB)    52Hz – 20kHz
Nominal coverage    H  90°
V 60°
Components   LF Diameter:12" cone, Voice Coil:2", Magnet:Ferrite
HF Diaphragm:1.4", Type: 1" throat compression driver, Magnet:Ferrite
Crossover   2.1kHz: FIR-X tuning™ (linear phase FIR filter)
Output power   Dynamic:1000 W (LF: 800 W, HF: 200 W) / Continuous: 465 W (LF: 400 W, HF: 65 W)
Maximum output level (1m; on axis)     131dB SPL
I/O connectors  INPUT1: Combo x1, INPUT2: Combo x 1 + RCA pin x 2 (Unbalanced), OUTPUT: XLR3-32 x 1 (CH1 Parallel Through or CH1+CH2 Mix)
Processors:  D-CONTOUR: FOH/MAIN, MONITOR, OFF
Heat dissipation:    Fan cooling, 4 speeds
Power requirements:   100 V, 100-120V, 220-240 V, 110/127/220V (Brazil), 50/60Hz
Power consumption :   74W(1/8 Power Consumption), 18W(Idle)
Cabinet material :  Plastic
Finish:    Black
Handle: Side x 2
Flying and mounting hardware  Bottom x 2, Rear x 1 (Fit for M8 x 15 mm eyebolts)
Pole socket :   35mm (Bottom x 1)
Dimensions:     W   376mm (14.8")
H  601mm (23.7")
D 348mm (13.7")
Net weight :  15.8 kg (34.8 lbs)
Accessories:  BBS251, BCS251, BWS251-300, BWS251-400 (Optional Speaker bracket)
AWM6112 - Plug-In-N-RechargeTM VHF
 Dual Channel Wireless Microphone
The Audio2000'S® AWM6112 Plug-In-N-RechargeTM VHF dual channel wireless microphone system is a wireless microphone system with the recharge mechanism right on the top of the receiver (AWR6112) and on the microphone (AWX6112). Intended to be a solution provider for various application environment, the AWM6112 system is developed to provide the following benefits to the users
Friendliness:  The Plug-In-N-RechargeTM feature, with the recharge mechanism built right on the microphone and the receiver, makes the wireless microphone systems ready to be used at any time.
A rack-mount kit is included such that the AWM6112 is rack mountable.                      
Dependability:  The AWM6112 system has been designed and manufactured to be dependable, problem free, versatile and easy to use.                                             
Portability:  The color cardboard box is designed to be carried easily and is, hence, highly portable.                                   
Quality: The AWM6112 system has been engineered to have a wide audio frequency range, high S/N ratio, and outstanding performance. Three NiMH AA rechargeable batteries are used for each handheld microphone to avoid the traditional NiCd battery memory problems.                                 
Affordability: The AWM6112 system is intended to be readily accessible to everyone with exceptional performance at a preferred and affordable price.                                           
AWR6112 RECEIVER
FEATURES
* VHF Band Frequency
* Recharge Mechanism Built-in on the Receiver
* Balanced and Unbalanced Audio Outputs
* Full Rack Case with Power and RF Indicators
* Fluorescence Display
* RF Input with Built-in RF Preamplifier to Improve S/N Ratio, Sensitivity and Dynamic Range
* Low Noise Mixer Circuitry for Reducing interference
* 120V-240V AC Power Supply
FRONT PANEL FUNCTIONS
Power On/Off Switch
Channel 1 Volume Level Control
Channel 1 Recharge LED Indicator
Fluorescence Display
Channel 2 Volume Level Control
Channel 2 Recharge LED Indicator 
Speaker Stands with Bag (PAIR)
For use with internal or external speaker mounts
Fold out tripod design
Hand adjustable bolt tightens shaft in any location from 44"-80"
Insert attached safety pin in any of the 6 preset locations to prevent accidental damage
120˚ tri-pod leg design 
Housing effortlessly slides along lower shaft to open & close the legs
100 lb Load capacity
Base spread: 32"-48"
Non-slip rubber feet 
Black powder coat finish
Base spread should be at twice the width of your speaker cabinet
Tube diameter: 38 milimeters
1-3/8" (35mm) steel tubing
Extends to 74" (2m) high
100 lb (90 kg) capacity
WELCOME TO LIGHTYEARMUSIC PLEASE CALL US WITH ANY QUESTIONS @ 800-557-7464 MONDAY-FRIDAY 10:00AM-7:00PM SATURDAY 10:00AM-3:00PM LIGHTYEAR LIFETIME WARRANTY FAMILY OWNED BUSINESS FOR OVER 25 YEARS BEST CUSTOMER SERVICE AVAILABLE 24/7 1-800-557-7464 1-216-929-1022