Keep This
 

Adorable Kitty Cat

 

Beside You All The Time!
It keeps your skin moist and also eliminates odor & bacteria in the surroundings. Its belly of fish lights up to a dance of lovely mood lights when you turn it on. Plus, it comes with a fan and a white LED light attachment making it a multi-functional 3-in-1 Kitty & Fish Air Humidifier.

IDEAL FOR
Dry skin & irritable throat & nose

 

- Moist air from humidifier helps to keep skin supple, prevents cough & dry sinus.
Offices & enclosed air-conditioned environment with no incoming fresh air

 

- Humidifier introduces clean moist air and reduces germs & odor in the air
Keeps environment cool & refreshed

 

- The only humidifier that comes with a Fan attachment to disperse cool mist.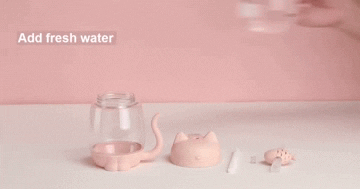 FEATURES:
3 in 1 - Humidifier, Fan, LED lamp (mood lights + white light)
Auto Shut-off after 4 hours or once the water runs out
Full capacity is

 

good for a total of 8-hour misting time
Turn on using Phone Charger, Powerbank, or Laptop's USB Port

SPECIFICATIONS:
Material:

 

ABS Plastic + Silicone
Capacity:

 

350 ml / 11.8 fl oz
Wattage:

 

2 Watts
Voltage:

 

DC 5 V
Dimensions:

 

8.3 (L) x 10.7 (W) x 13.6 (H) cm / 3.3 x 4.2 x 5.4"
Package includes:

1 x Kitty & Fish 3-in-1 Air Humidifier
1 x USB Cable
1 x USB Night Light
1 x USB Fan
1 x Cotton Swab
1 x User Manual