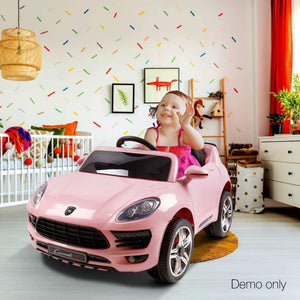 Shipping Costs - $19.90 Australia Wide **

Tracked shipping throughout your purchase

12 month warranty for peace of mind
Kids Ride on Car - Pink
Rev up for some great bonding times with your child with this Ride On Car.
Featuring an upgraded 50W twin motor and longer life 12V battery, this Ride On Car promises up to two hours of riding escapades with music and flashing lights in tow. The Ride On Car itself is a stunning piece of work with all the inspiring design cues including impeccable hot pink paint work, stylish workable lights, large comfortable seat with seat belt, sleek dashboard with realistic push start button, MP3 connectivity, chrome plated wheels, rear wheel suspension and anti-slip tyres. Child safety is always foremost in mind and the Ride On Car features both manual and parental remote controls to help your child ride on smoothly in any situation.
With a load capacity of 30kg and speed range of 2 to 8km/h, this Ride On Car is as real as it gets for your child to cruise onto the driveway to unbridled fun.
Features
* Stylish Lacquer finish 
* Upgraded 50W twin motor 
* 12V battery 
* Rear wheels suspension 
* Anti-slip tyres 
* Large comfortable seat with seat belt 
* Flashing lights with music 
* Push start button 
* Manual and parental remote control 
* Pull-out handle
* MP3 connection 
* SAA-approved battery charger 
* EN71 standard compliance
Specifications
* Motor: 50W (2 x 25W) 
* Load capacity: 30kg 
* Battery: 2 x 6V4.5AH 
* Speed range: 2-8km/h 
* Speed Mode: High / Low 
* Operating hours: 1.5-2 hours per full charge 
* Control mode: Manual and remote 
* Battery charger: Included 
* Flashing light: Yes 
* Seat belt: Adjustable 
* User: 3- 8 years old 
* Colour: Pink
Package Contents
1 x Kids Ride On Car
1 x Battery Charger
1 x User Manual