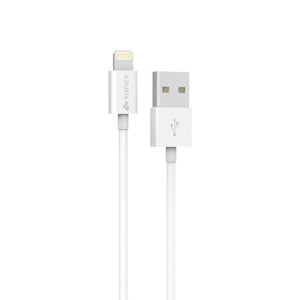 8 Pin Lightning Connector
Connects iPhone/iPad/iPod to a PC
Apple MFi Certified
Backup or Transfer Multimedia Files
Connects to a USB Power Adapter
The 6.5' 8-Pin USB Cable is designed for the iPhone 5, 5c, 5s, the iPad (4th generation),the iPad mini, the iPod nano (7th generation), and the iPod touch (5th generation 16GB/32GB/64GB). The cable allows you to charge and sync your device by plugging it into the USB port of a computer. You can also plug it into a separately sold wall or car charger with a USB port. This makes an ideal replacement or spare cable to have on hand.
FEATURES
8 Pin Lightning Connector
Connects iPhone/iPad/iPod to a PC
Apple MFi Certified
Backup or Transfer Multimedia Files
Connects to a USB Power Adapter