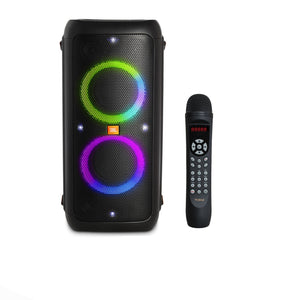 This karaoke system combines an amazing and powerful JBL speaker with a karaoke player that can hold over 30,000 karaoke songs
This System Includes:
(1) JBL Partybox 300 Bass Boosted Speaker ($450 Value)
(1) Microphone Style Karaoke Player  ($200 Value)
1331 Free Professional Karaoke Songs! ($4000 Value)
12v Car Charger for Speaker for Perfect Tailgate Speaker!
FREE Karaoke Song Book Printouts
The JBL Party Box 300 is an amazing home speaker that is equipped with bass boost technology and crystal clear sound. 
General Specifications
Power Inputs 
100-240V AC and 12V DC
Input Terminals 
RCA L/R, USB port, 3.5mm Aux-in, Mic/Guitar with volume control
Wireless Connectivity 
Bluetooth Technology
TWS (True Wireless Stereo) connecting up to 2 party speakers using Bluetooth technology 
Yes
Frequency Response 
45Hz-20kHz
Battery type 
Lithium-ion 74.88Wh (equivalent to 7.2V 1040mAh)
Battery charge time 
5 hours
Battery Playtime 
18 hours*
RSQ MK-200 Karaoke Machine
HOLDS OVER 30,000 SONGS!!!
MK-200 the MK-200 is the perfect machine for you. This model is the latest installment to our highly successful RSQ line of Karaoke Players. Due to its multi-format capability and recording function, the MK-200 is currently one of the most sought after machines. Along with its great functionality, it is a microphone karaoke. You do not have to carry player and microphone separately. Everything can be controlled from microphone. Without a single doubt, this microphone karaoke is perfect for not only for home/personal use, but also for Kj's and Dj's as well. Features: Play songs from your SD card Record Singing to SD card Song List Creation tool with NEO+G, MP3+G & Divx format Easy Song Search : On-Screen Song index and Song number 13 steps digital key control Scoring function Compatible with high capacity SD card up to 64GB Specification: Supported Video Format : MP3+G, NEO+G, AVI, JPG Supported Audio Format : MP3, WMA, and OGG Supported TV System : PAL/NTSC System Video Output : Composite Output Audio Output : Analog 2CH (L/R) Audio Output Microphone Input : 1 Ea. 3-in-1 Card Reader : 1 Ea, support up to 64GB Power Source : DC 5V / 1.5A Power Consumption : <10W Operating Temperature : (41F to 95F) Operating Humidity : 10% ~ 75% Dimentions : 13 in. x 8 in. x 4 in. Weight : 3 lbs Package Includes: Microphone Karaoke User's Manual Warranty Card Power Adaptor A/V Cable Carry Bag Sub-mic