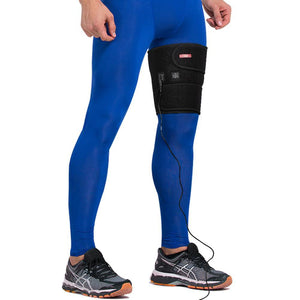 Product Details
Neoprene
Built with heat therapy pad inside, which helps to soothe the pain of the knee joints and relax the stiff, tense sore muscles around the kneecap. It could also stimulates blood flow and improves circulation to reduce stiffness in painful joints
Provides temporary relief from minor muscular aches and joint pains associated with overexertion, strains and sprains, as well as minor pains associated with arthritis
Come with 1.5M USB cord, it could be charged with portable power bank. For people who works before PC every day, it could be charged by attach the USB port to the computer
Adjustable wraparound knee brace, an essential winter knee warmer for men or women. Fits for people who suffered knee pains from meniscal injuries, osteoarthritis, bursitis, ACL PCL MCL tear or other knee muscles tear problems
Size: fits knee circumference around 25cm to 40cm, please measure your knee before ordering this. Input: 5V 1A 3.5mm USB charging cord; Temperature range: 40-45 Celsius;
About Thermotherapy:
Thermotherapy, also we called it heat therapy, is a use of heat in therapy for muscles, chronic pain or stress. It dilates the blood vessels, stimulates blood circulation and reduces muscle spasms, alters the sensations of pain. It is now commonly used to smooth pain and relax muscles. It could be used in rehabilitation program or at home.
Product Features:
1. Temperature Range: 40-45Celsius. A heating pad around 10*19CM with natural heat system. While using heat therapy, it is a concern about temperature, it much be ensure the temperature is not so hot that burn the skin even. It should be a temperature that people can comfortably tolerate.
2. Power Source: 1M USB cord. Input: 5V 1A. It could be powered by power banks or other USB charger adapters of your phones.
3. Adjustable: fits knee circumference around 25cm to 40cm. Total length of the brace is 50CM, width is 21CM.
4. Safety: Built-in thermal protection module. Once it is overheat, it would stop until the heat return to the standard temperature.
5. Washable: It could be hand washable, but please do not use it if it was not completely dried.
Package Includes:
1 x Knee Support Pads
1x AC charger adaptor
1x USB cable
1x User manual
Note:
1. Should never apply to a joint that is already hot, red and irritated.
2. If you are not temperature sensitive, please wear pants beneath of it.
3.Those with pacemakers, pregnant women, young children and those who can not express their willingness are prohibited to use this product.
4.Please give it time to work. It could not get heated at once.
5. Natural heat of this could helps improve: blood circulation, muscle soreness, joint problems, inflammations after workouts, mobility and flexibility, range of motion and discomfort6. Any quality problem or any questions about the product, just feel free to contact with the customer service. Thank you.