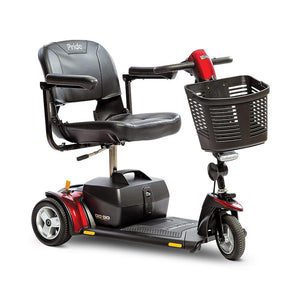 BENEFITS:
Feather-Touch Disassembly: Simple frame separation with only one hand easily disassembles into five super-lightweight pieces for convenient transport and storage
Delta Tiller: Ergonomic wraparound handles enables easy-to-use left or right hand operation and the ability to rest your wrist on the handle for added comfort
Interchangeable Shrouds: Includes sets of easily changeable colored panels: Red and Blue
Comfortable Seating: Foldable compact black vinyl swivel seat

Free 1 Year "Liberty" In Home Service $100 Value

Free Standard Shipping

Free Front Basket

Free Cup Holder, Safety Flag, Armrest Safety Bag
FEATURES:
Delta tiller with wraparound handles
300 lbs. weight capacity
Standard 18AH battery pack
9" rear wheels
Speed up to 4.5 MPH
Feather-touch disassembly with one hand
Auto-connecting front to rear cable
Includes two sets of easily changeable colored panels in two exciting colors: Red and Blue
DESCRIPTION:
Moving around your home and other spaces can be difficult when you're suffering from pains in your joints and muscles. In these situations, the Go-Go Elite Traveler by Pride is an excellent choice to help you get around without much of a hassle. The three-wheeled SC53 works well in smaller spaces, and faster speeds in larger, wide-open spaces.
It's has a better weight holding capacity of 300 pounds so it can accommodate a wide range of users. For quick and swift movement, it has a maximum speed of 4.5 miles per hour. The SC53 is fitted with an 18AH battery that can take you 14 miles on a single charge. The delta tiller design also features wraparound handles that don't just offer better maneuverability but effectively reduce wrist strain as well.
It's the most compact Go-Go rider that you can take with you wherever you go. Feather touch Disassembly makes it effortless to separate the entire frame into five lightweight components that can be put together just as fast. This compactness makes the SC53 convenient to store without letting it take up too much room, and transport as well. Moreover, it includes comfort features like the cushioned swivel seat that you can fold to reduce space consumption.
The backrest provides support to critical areas such as the back and shoulders. Additionally, it is constructed with handy storage solutions such as a front basket and under-seat compartment, so you can carry your essentials with you.
SPECIFICATIONS:
Model: Go-Go Elite Traveller Plus 3-Wheel
Model Number: SC53
Front Tires: 2" x 8" Solid
Rear Tires: 3" x 9" Solid
Maximum Speed: Up to 4.5 mph
Ground Clearance: 1.5" at motor
Turning Radius: 34.5"
Overall Length: 40"
Overall Width of Base: 21.25"
Seat-to-Ground Height Range: 20.5"-22"
Seat Type: Compact, Foldable (17"x17")
Weight: 86 lbs.
Seat-to-Deck Height Range: 16.25"-17.75"
Battery Weight: 14 lbs. each
(18 AH battery pack weighs 29.5 lbs.)
Battery Requirements: (2)18AH
Maximum Range Per Charge: Up to 14 miles
Battery Charger: Off-board, 2A
Maximum Weight Capacity: 300 lbs.
Standard Body Colors : Red and Blue
interchangeable shroud panels
Weight of Heaviest Piece: 32 lbs. (Rear Section)
Medicare Code Coverage: K0806 - Group 2 Standard
Must be billed to Medicare as either a beneficiary requested upgrade with a properly executed ABN, or as an upgrade at no additional charge to the beneficiary.
Warranty: Lifetime limited on frame;
2-Year limited on Electronics;
2-Year limited on Drivetrain