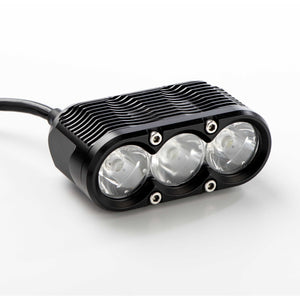 The Flagship light of the Gloworm suite, the Gloworm XS Light System (2500 Lumens) retains the small form factor expected of a Gloworm but with a powerful 2500 lumen output.
This light is ready for anything you can throw at it, a perfect combination of brightness, weight, runtime and value. The XS is poised to make waves in cycling community.
Wireless TX Remote
The revolutionary Gloworm Wireless TX Remote enables you to keep your hands on the controls at all times and its small size has a minimal footprint on the bicycles cockpit. The wireless remote can be configured to operate multiple Gloworm lights simultaneously using the simple pairing process.
Mounting Options
A huge benefit of its design is the ability to mount on the front of the helmet meaning you'll never catch your light on another overhanging tree. Additionally it can also mount on the handlebar or on the headstrap (available separately) – it can also be mounted on a rifle or hunting bow using the go-pro style helmet mount!
Key Features
2500 Lumens (Real, not theoretical output)
Wireless Remote Button – can sync multiple lights to same remote
IMT (Intelligent Mode Technology) technology
330g total system weight with battery pack
Waterproof to IP66
6800 mAH Lithium Ion Hard Case Battery with 4 Panasonic cells
3 x Cree XML-2 U2 LED emitters – the latest generation of Cree emitters
3 optic system
2 hr runtime on Maximum power
4hr battery charge
Remote switch
Light/System Weight: 110g/340g
Includes;

Lithium Ion Battery Smart Charger
Extension Cable
Light Head
Wireless TX Remote
Alloy/Polycarbonate Helmet Mount
Carbon Composite Quick Release Handlebar Mount
Li-ion Battery Pack 6800mAh (sealed case) using 4 Panasonic Li-ion cells
Spare optics
Cable ties/adhesive foam