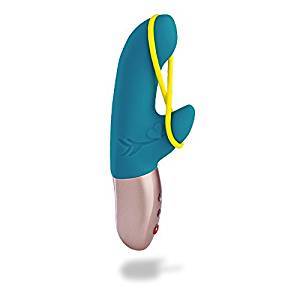 The neon yellow band on this rechargeable
MiniVIBRATOR
exudes its heavenly magic across the gently rounded ends of the
AMORINO
and its bulbous clit stimulator.
The gently taut silicone band transmits the toy's vibrations. Cross or stretch the bands straight around the
AMORINO
and explore a variety of sensations. Use as a lay-on vibrator and it stimulates externally by transferring the motor's vibrations via the band onto the venus mound, the clitoris and the labia.
Of course the
AMORINO
never loses sight of its goal when used internally. The gently curved tip easily finds the G-spot and P-spot and the external bulb of the vibrator stimulates the clitoris or perineum.
Note:
For anal use the band must always be removed.
MiniVIBRATOR features a unique stimulation band that transmits vibrations intensely
Rechargeable with magnetic charging cable included (USB-MAGNETIC CHARGER)
If crossed and stretched over the dual motors, the silicone band arouses spot-on. When placed straight across the vibrator's stimulating tips, the band transmits more vibration across a bigger area
This lay-on vibrator enhances the effects of a classic vibrator with its stimulating band
Gently curved shape for intense stimulation of the G-spot or a man's prostate
During anal use always remove the band
Ergonomically shaped control unit comes in classy gold tone
Touch buttons are easy to operate, simply "PRESS FUN TO PLAY"
"Instant Off' quick switch off function is easily accessible with the FUN button
Lock function ensure your vibe won't turn on unexpectedly, making it perfect for storage while traveling