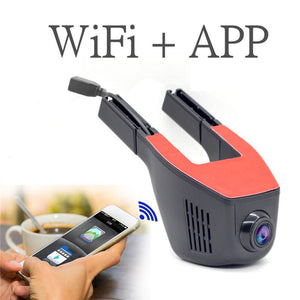 We are an online store based in South Africa known around the globe for our unbeatable prices which we are able to achieve by sourcing only the highest quality products from the most reliable suppliers.
Our passion is to give you the best products on the market without the extremely high markups traditional retailers take. 
---
This 1080p WiFi Dash Cam lets you record beautiful sceneries as you go.
Ideal to use in documenting interesting things that you encounter while you are on your journey. This dash cam also has a detecting feature that can protect your car against theft and can collect evidence since it has a built-in G sensor and has a 170-degree super wide-angle camera that can avoid dead zones.
Features
- High-speed recording
- Supports real-time and display on video
- Has 170- degree wide camera
- Has motion detection function against theft
- Has built-in G- sensor collision detection
- Can record even in dark or low light
- Supports wifi, microphone, night vision, video input, date and time, and built-in sound
- Has memory card slot with maximum support up to 64 GB
- Can share video on SNS anytime and anywhere
- Color: Black
- Photo Format: JPEG
- Video Format: mp4
- Power interface: All cars
- Size: 158 x 76mm / 6.22 x 3 inches
- 1080p HD video recording
- Resolution: 1920 x 1080 pixels

Package Inclusion
- 1 x 1080p WiFi dash cam
- 1 x Car charger
- 1 x USB cable
- 1 x Manual