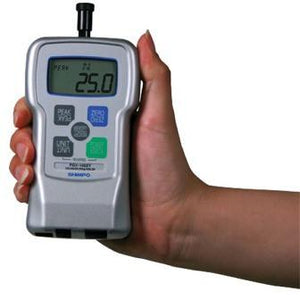 FGV-5XY Digital Force Gage 5lb Range
Specifications include...
5 lbs / 2 kg / 20 N Capacity
0.001 lb / 0.001 kg / 0.01 N Resolution
Shimpo's workhorse gage just got better! It is now faster, smarter, easier to use!
The Series FGV-XY Force Gages combine a rugged, ergonomic and compact design to provide a complete force testing instrument. These instruments are utilized in a variety of applications such as, incoming quality inspection, finished goods testing, R&D or almost any portable or force stand testing requirement.
On-board statistical calculations provide fast access to maximum, minimum, average and standard deviation data. Units include the free TORIEMON-USB software and USB cable allowing further data analysis on a PC. The 1,000 point memory allows for data exporting in real time or after testing is complete. In addition, the RS-232C and analog outputs provide the DART 2.0 with maximum communication flexibility.
The 180° reversible display combined with the adjustable force direction and dual labeled keypad enable the FGE-XY to excel in both compression and tension applications in any direction. Typical applications include wallboard, wire pull, wire crimps, trigger pull, brake pedal, aerospace ceramic, springs, food ripeness, corrugated paper strength, blister pack, medical component, muscle strength, ergonomic testing, adhesives, syringe plunger, needle sharpness and many more.
Features include...
1000 Hz Sampling Rate
High Accuracy (0.2%)
USB/RS-232/Analog Outputs
Reversible Keypad & Display
Variable Display Rate
200% Overload Capacity
Die Cast Aluminum Construction
Selectable Auto-Shut Off
USB cable included
Included in the package...
AC Adapter / Charger
Carrying Case
Hook
Chisel
Flat Head
Notched Head
Hanger
Cone Head
Thread Adapter
Extension Rod
USB Cable