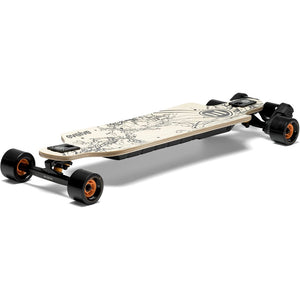 The Evolve Skateboards original Pintail and Snubnose started the Bamboo legacy. Now they are reborn, with GT performance!
We took the true longboard feel that made the bamboo models so popular, and combined it with 3000W of dual brushless motor power, the new GT remote featuring a digital LCD screen, and the new wider super-carve truck system for stability whilst enabling tight carves. Your ride will feel even smoother with Evolve's all new GT Series wheel – an 83mm hybrid of all that is good in our favourite skate wheels; grip, softness and durability. Sporting a graphic true to the legacy of the original bamboo series, the Bamboo GT Street embraces the comfortable locked-in feel of the Gen2 deck and flexible battery case to create a soft, surfy ride that is perfect for cruising your favourite spots. Taking you up to 35km in just one charge, you will run out of path before you run out of battery! The Bamboo GT Street is the hybrid of unparalleled performance and traditional longboard style, an effortless low profile package guaranteed to draw both attention, and envy.
The Evolve Bamboo GT Street offers more riding modes than ever before allowing all levels of rider to enjoy the product safely with the added ability to adjust your mode while riding to suit conditions and maximize efficiency. Use "SLOW" mode for easy control and a safe top speed, perfect for beginners and first time users. Once you get the hang of things switch to "ECO" mode for a relaxed ride and unparalleled range. Try "FAST" mode to whizz past traffic and turn your commute into your daily adrenaline rush hour, and if you dare, switch to "GT" mode to unleash the insane power and acceleration with the ability to climb hills of up to 25% gradient! 
To top it all off, you can see this performance in real-time with an industry first from Evolve Skateboards: The all-new Evolve R2 Remote.  It gives you instantaneous feedback on your speed, battery level, range and mode selected with a built in LCD screen, right from the palm of your hand! 
The Bamboo GT Street: the true longboard feel you love with the performance you need!
Power – Performance – Versatility 
If you would like to swap for different wheels, gears, or hubs, please contact us for pricing and service fee information before completing your purchase. 
What's in the box?
Your new Evolve Bamboo GT Street
Our new R2 controller with the latest firmware, packaged in a carry case 
Remote charging cable
Standard board charger
Owners manual
Skateboard t-tool, allen keys, and an Evolve sticker pack