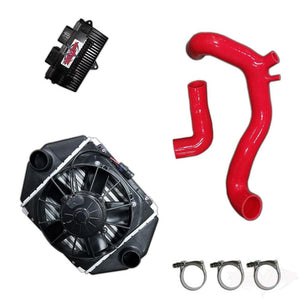 BRP has given consumers a value priced X3 rated at 120 HP stock. The drivetrain, turbocharger and injectors are identical to the higher horsepower versions. This means that with tuning and a few parts, the base model can make the same power as the X3-R, XDS, XRS and XC models. Here are the items that differentiate the base model from its brothers:
Base model does not have an intercooler
Utilizes the same fuel pump assembly as the 2017 models
Stock programming is VERY Docile

EVP has created packages that will allow this base model to make the same horsepower as the the as the 2018 172 hp version or the higher horsepower EVP tunes! With the 2018 fuel pump assembly, we can tune it to the same power as the big brother versions! Over 175 wheel horsepower (220 engine hp) is achievable!

All EVP packages include:
OEM 2018 intercooler assembly with fan
EVP Silicone Charge Tubes with BOV port
ECU Programming to raise the desired power level – 215+ horsepower!
(Optional) 2018 fuel pump assembly to run 2018 EVP intercooled tunes
2018 EVP Stages:

"R" designation = the turbo wastegate crack pressure must be adjusted for higher boost (see our video on how to do this here)
"W" designation = a replacement wastegate actuator is included with the tune
"i" designation = big injector tune and includes flow matched injectors
"S-R" designation = stock 2018 R horsepower with all of the EVP enhancements (rev & speed limit increases, etc)
STAGE S-R 172 HP STOCK FUEL PUMP – 91 OCTANE
STAGE 1 190 HP FUEL PUMP UPGRADE – 91 OCTANE
STAGE 2 190 HP FUEL PUMP UPGRADE – 91 OCTANE
STAGE 3 192 HP FUEL PUMP UPGRADE – 91 OCTANE
STAGE 2R 193 HP FUEL PUMP UPGRADE – 91 OCTANE
STAGE 3R 193 HP FUEL PUMP UPGRADE – 91 OCTANE
STAGE 3RI 195 HP FUEL PUMP UPGRADE – 91 OCTANE
STAGE 3RWI 200 HP FUEL PUMP UPGRADE – 93 OCTANE
STAGE 4RWI 215 HP FUEL PUMP UPGRADE – 95 OCTANE
STAGE 5RWI 220 HP FUEL PUMP UPGRADE – E85
Dyno Tuning the 120 HP Base X3

There are two options for programming:
Send your ECU to 2006 68th Street Suite D Somerset, WI 54025 – we will flash your ECU via the ECU connectors – We do not have to open the ECU!
Purchase Maptuner X: Maptuner X is a consumer hand held ECU tuning device similar to many diesel programmers on the market except with more capability. With it, you can program your own ECU via the touch screen interface and included cabling. The cable plugs into the OEM diagnostic port. With Maptuner X, you can install the same proven EVP programs. Not only that, Maptuner X has live datalogging capability (optional). It is also compatible with most Polaris, BRP and Yamaha vehicles meaning you only need one device to tune many vehicles! (additional tunes must be purchased). You can return your vehicle back to stock at any time! Additional tunes can be purchased at special pricing for the same VIN.