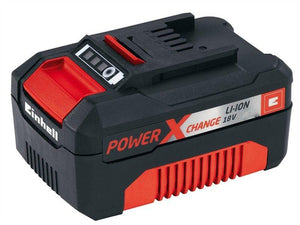 Einhell Power X-Change Li-Ion Batteries are controlled by a micro-processor, which monitors its key parameters such as temperature, voltage and current strength. This provides effective protection against overheating and ensures the right balance for optimum operating conditions.

The battery can be charged irrespective of its charge level. An automatic check establishes conditions on which the charging process depends. In normal conditions, for example, the high-speed charging process is started directly. In other conditions, e.g. extreme cold or exhaustive discharge, gentle charging is performed at reduced current strength. This charging method protects the battery and is essential for ensuring a long service life.

The intelligent charge control system controls each battery cell individually, ensuring that each cell is fully charged. This produces maximum supply of power. Overcharging is not possible, so even a charged battery can remain in the charger.

The battery has a 3-stage LED indicator which indicates not only the battery charge, but also extreme temperature conditions. It also has a triple shell design for optimum protection against damage.

The Einhell PX-BAT52 Power X-Change Battery has the following specifcation:

Battery Capacity: 5.2Ah.

Battery Chemistry: Li-Ion.
Voltage: 18 Volt
All our products include VAT at 20% where applicable in our listing price.
HTS Supplies is a VAT and registered company in the UK, if you require a VAT receipt with your purchase, email or phone and a receipt will be sent with your order.
Thanks for looking and check out HTS Supplies other items