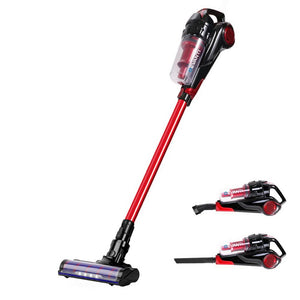 Devanti Cordless Handstick Vacuum Cleaner - Black and Red
This is certainly the ultimate in easy cleaning and vacuuming. Our Devanti Handstick Vacuum Cleaner gives you the freedom to use it in any tight space or where spot cleaning needs to be done without lugging a big machine behind.
The Devanti Handstick Vacuum works as a normal stick vacuum and, with just a removal of the stick, instantly becomes a handstick vacuum. Its powerful 120W 25000rpm motorized head has a steady and adjustable 2-speed suction power of 8000Pa. And a 160° swivelling head that can be fitted with optional brushes and nozzles for different types of surface and zone cleaning also allows it to pick up dirt, debris and anything in its path easily. That makes the Devanti Cordless Stick Vacuum ideal for cleaning carpets, curtains, shelves, soft furnishings, vehicle interiors and delicate objects as well as vacuuming ceiling, corners, niches and gaps.
The one-handed design is lightweight and bagless. All collected dirt and debris pass through a washable and reusable HEPA filter that eliminates up to 99.97% of dust and allergens. It's also very simple to empty the 0.5-litre dust container with just a quick release from the assembly. Not least, the rechargeable 2000mAH lithium-ion battery can run continuously up to 25 minutes on a full charge and charges quickly with the charger adaptor.
Features
* Cordless and lightweight
* Long reach
* 2000mAH Li-ion battery
* 160° swivelling head
* Powerful motorised head with steady suction
* Adjustable 2-speed suction power control
* Suitable for carpet, rugs, hard flooring, upholstery and curtains
* Multifunction brush nozzle
* Crevice nozzle
* One-handed design to empty dust container
* Bagless with HEPA filter
* Washable and reusable HEPA filter
* Eliminates up to 99.97% of dust and allergens
* 25 minutes continuous running time
* Quick battery charging

Specifications
* Brand: Devanti
* Power: 120W
* Suction power: 8000Pa
* Motor rotate speed: 25000rpm
* Lithium battery capacity: 2000mAH
* Running time: 25 minutes
* Charging time: 4 hours
* Dustbin capacity: 0.5L
* Tube length: 62cm
* Adaptor cable length: 180cm
* Overall dimensions: 23 x 20 x 108cm

Package Content
1 x Vacuum Cleaner
1 x Roller Cleaner Head
1 x Aluminium Tube
1 x Brush Nozzle
1 x Crevice Nozzle
1 x Nozzle Adaptor
1 x Rechargeable Battery
1 x Charger Adaptor
1 x User Manual