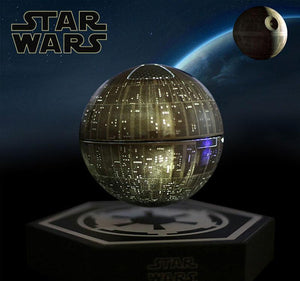 The Death Star Speaker spins above the magnetic base constantly. This cute little speaker has superb volume levels for a rich stereo sound in crisp high definition. The perfect accessory completes any decor at your home and office, and always enjoy vivid, full-bodied music, wherever your music adventure takes you.


Features:
Best gift for star war's fans.
Death star speaker spinning above the magnetic base constantly.
The death star glows in the dark.
High quality sound experience. Play music on smart phone or tablet, music comes out from the bluetooth speaker orb. Enjoy music, enjoy daily life.
Death star speaker can make your life more and more splendid.
Special sound guide cone designed to increase 3D surround effect, which can rotate 360 degrees.
Bluetooth speaker floating in the air with 10mm ground clearance.
Specifications:
Material: Plastic
Channels: 2 (2.0)
Audio Crossover: Full-Range
Communication: Bluetooth
Output Power: 5W
Power Source: Battery
Frequency Range: 60Hz-23KHz
Material: ABS Plastic
Size: 15 x 15 x 3.15cm (L x W x H)
How to levitate:
Make sure the base is turned on an placed on a flat surface.
Holding the orb in your hands, slowly lower it towards the center of the base.
When you feel the orb start to levitate -- let go! Voila!
To make the orb spin automatically, rotate the orb once manually to get it spinning in the desired direction. (Notice: Failure to connect the boom box ball with base after 3 times, please pull out the charger and reconnect it with charging.)
When connecting the boom box ball, ensure that it is not surrounded within 10cm or electronical products(computer, phone) within 20cm.


Packing list:
1 x Portable Bluetooth Speaker 
1 x Charger 
1 x User Manual 
1 x Usb Cable 
1 x Charging Cradle