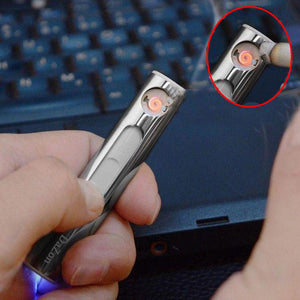 DaZon USB Lighter Long Cylindrical Charging With Micro USB Cable (Silver)
This lighter comes with delicate appearance and practical function.
It is lightweight, small, and easy-to-take.
Until completely exposed Electronic lighter, redness instantly heating wire can be lighter.
This product is built high-rate charge and discharge cycle battery can be charged about 500 times, long 2-3 hours   per charge.
This product is only used for charging USB interface can be connected to the computer, mobile phone chargers and other charge on any output voltage DC5V.
USB charging lighter windproof, safety, environmental protection, energy saving.
The initial use of long periods of non use,connect the charger, then disconnect and reconnect the charger. After fully charged immediately disconnect the power source.
Do not leave a fully charged usb charging lighter is connected to the power supply. 
specifications:
Name : Round USB lighter
Products accessories : Lighter+Date line
Output voltage : DV5V 0.5A
Charging time : About 2hours
Weight : 30
Size : 8*1.5cm
Style : Electronic
Brand : DaZon
Material : Metal
Colour : Silver
Cycle Charging : 300-500 times
The portable usb lighter can be used in a field trip,business meeting,party which let you are different.It also can be used a gift to your friend, lover,leader and parents which let you warm your improtant people.
Disclaimer: Product color/texture may slightly vary due to photographic lighting sources or your monitor settings or mobile settings.The properties shown in the images are not part of this product.