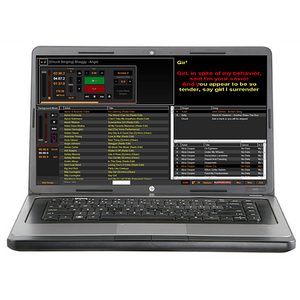 Complete Karaoke Package - Laptop 14", Speakers, Mixer, Mics & More
This System Includes
Karaoke Laptop
14"Display Monitor
500GB Hard Drive
Yamaha MG10XU Stereo Mixer
Owner's manual installed on computer
CD with drivers and utility software
AC Adaptor/Re charger
Latest release of PCDJ Karaoke Software featuring a built-in song book creator
Windows 10 Home Premium 64 bit including all other Windows updates installed the week it ships
FREE PC Disc Jockey Software
FREE 3.5 mm to RCA adapter cable for hooking up your laptop to a DJ system or audio system with AUX input. 14.95 Value
FREE Professional installation of both Karaoke and Disc Jockey software on the Laptop
25' HDMI CABLE TO RUN DIRECT TO HDMI TV
WHAT SEPARATES US FROM EVERYONE ELSE!
FREE MEDIA PLAYER SOFTWARE (Allows you to play CD+G & SUPER CD+G in the CD-ROM tray (EXTERNAL) making your laptop a CD+G & SUPER CD+G Player!)
FREE TEAMVIEWER PROFESSIONAL  (To help you from our location by logging in directly into your computer)
- VALUE $850.00
FREE OUR UNBEATABLE LIFETIME TECH SUPPORT PROGRAM!! (Unlimited phone support help line)
FREE Karaoke CD+G Burner Software (To make copies of Karaoke discs!!)
FREE We will load MOST drivers for your mixer if you call us and let us know what mixer you're using.
FREE ANTIVIRUS SOFTWARE INCREASED TO 1 YEAR
Powered Karaoke System 
Karaoke Laptop 14"
Karaoke Laptop Designed for Karaoke and DJ Gigs. Massive 1 Tera Byte Hard Drive, Powerful QUAD Core Processing, Supports Dual Video Displays, and includes Karaoke Software and DJ Software.
Computer Components:
500 GB Hard Drive
HD Graphics Card Desighned for Karaoke and DJ
Touch pad with on/off button and 2-way scroll pad
DDR3 Memory
Specifications are subject to change due to improvements.
Display:
14" High-definition LED with Bright View technology 
Dual-display support, run PC DJ while your singers are performing to lyrics on the TV
Interface Ports:
USB ports connectors Yes
1 15 pin D-sub connector for external VGA monitor
1 RJ-45 jack for Ethernet LAN
1 DC Power In jack
1 HDMI Port
Integrated Audio:
1 1/8" mini-jack stereo for external speakers or headphones (line out)
1 1/8" mini-jack for external microphone input
Built-in speakers
Communications/Networking:
Wireless B+G+N
Integrated 10/100Mbps Ethernet
Power:
6-Cell 47WHr Lithium-Ion Battery
Energy Star Qualified
Mechanical:
Dimensions: 14.72"(W) x 9.70"(D) x 1.25" (min H)/1.44"(max H)
Weight: 5.5 lbs.
Software:
Latest release of PCDJ Karaoke Software featuring a built-in song book creator
Windows 7 Home Premium 32 bit including all other Windows updates installed the week it ships
Adobe Reader, Adobe Flash; Cyber link DVD Suite and more
Can this Karaoke Laptop 14" be upgraded to to have Both DJ and Karaoke Software..
Included Accessories:
Owner's manual installed on computer
CD with drivers and utility software
AC Adaptor/Re charger
Limited Warranty:
Warranty - Manufacturer's one (1) year parts & labor
Karaoke Software
FREE PC Disc Jockey Software
FREE 3.5 mm to RCA adapter cable for hooking up your laptop to a DJ system or audio system with AUX input. 14.95 Value
FREE Professional installation of both Karaoke and Disc Jockey software on the Laptop
VGA TO RCA CONVERTER FOR REGULAR TV
25' HDMI CABLE TO RUN DIRECT TO HDMI TV
Yamaha MG10XU 10-Channel Stereo Mixer with Effects
The MG10XU from Yamaha is a compact ten-input mixer with built-in effects for performances, lectures, recordings and similar applications. The mixer features four mic/line combo inputs with D-PRE mic preamps as well as six 1/4" line inputs with stereo level controls. It also features USB connectivity and is capable of providing two channels in and two channels out to your computer at up to 24-bit / 192kHz, ideal for recording live performances, demos and more.
Each of the four mic/line inputs is equipped with a 3-band EQ, pan control and a high pass filter. The four D-PRE mic preamps feature an inverted Darlington circuit and switchable 48V phantom power for use with dynamic and condenser microphones. They also each feature 26dB attenuation switches for recording loud sound sources such as guitar amplifiers.
The MG10XU mixer has stereo XLR and TRS outs for connecting to your PA system or monitor speakers. It also has a 1/4" headphone output with level control for personal monitoring, as well as additional TRS 1/4" stereo monitor outs for sending to powered speakers, amplifiers or devices such as digital recorders.
Each of the MG10XU's channels feature a dedicated FX bus send level and there are 24 effects presets to choose from. The overall level of the FX bus is controlled by the dedicated FX return level control. Providing reverbs, delays, phaser, flanger, chorus, tremolo, auto-wah, distortion and more, these effects can be used to help vocals and instruments sit better in your mix.
Yamaha MG10XU Highlights:
4x Mic/Line Combo Inputs
6x 1/4" Line Inputs
2-In/2-Out USB Up to 24-bit / 192kHz
Built-In FX with 24 Presets
XLR and TRS 1/4" Stereo Outs
TRS Monitor Outs
"D-PRE" Mic Preamps with 48V Phantom
HPF & 3-Band EQ on Mic/Line Inputs
1/4" Headphone Output with Level Control
USB Works with PC, Mac and iOS
USB works with PC, Mac and the iPad (2 or later) through the Apple iPad Camera Connection Kit / Lightning to USB Camera Adapter
Includes Cubase AI DAW software (download)
Three stereo channels made up of six 1/4" line inputs (two stereo channels also have RCA inputs)
3-band EQ on channels 1-4 and 2-band EQ on channels 5-10
Pan control on each channel
FX level on each channel also feeds to TRS FX send for routing to devices such as external FX units or monitor mixers
One-knob compressor on channels 1 & 2 to smooth out the dynamics of vocals and instruments to help them sit better in your mix 
15" ACTIVE LOUD SPEAKERS
1500 Watts 
!!!1500 WATTS PEAK POWER!!! 
Built-in amplifier
Built in LCD screen with controls for USB and SD card inputs LCD displays USB & SD Card track information such as remaining time and title
remote control included!!!!!  
Includes remote which controls USB and SD Card inputs Line Inputs: RCA (Unbalanced), XLR (Balanced), USB, SD card Passive XLR & 1/4'' output
Microphone Inputs: XLR, 1/4'' Separate volume controls for both microphone inputs, line input and USB/SD Card inpu
USB / SD Card Support: 32GB max, .mp3 & .wma files
50Hz-20KHz frequency range (-10 dB)
Input sensitivity: 98± 2dB
Extremely powerful 15'' woofer with 2.5'' voice coil and 50 oz. magnet long-excursion driver provides incredibly deep bass and acoustic power
Harmonic 1'', 10 oz. titanium driver for exceptional high-frequency reproduction
Unique horn design for ultra-wide sound dispersion Bass and treble controls
Power and clip indicators
Power and clip indicators Two ergonomically shaped handles for easy transport
Durable wheels and top handle for easy mobility
Rugged steel grill for optimal speaker protection
High-quality components and exceptionally rugged construction ensure long life
Pole Mount
Remote controls USB / SD Card inputs
dimensions: 18'' L x 27'' h x 14'' w
weight: 27 lbs
AWM6112 - Plug-In-N-RechargeTM VHF
Dual Channel Wireless Microphone
System
The Audio2000'S® AWM6112 Plug-In-N-RechargeTM VHF dual channel wireless microphone system is a wireless microphone system with the recharge mechanism right on the top of the receiver (AWR6112) and on the microphone (AWX6112). Intended to be a solution provider for various application environment, the AWM6112 system is developed to provide the following benefits to the users:
Friendliness:    The Plug-In-N-RechargeTM feature, with the recharge mechanism built right on the microphone and the receiver, makes the wireless microphone systems ready to be used at any time.
A rack-mount kit is included such that the AWM6112 is rack mountable.                            
Dependability:  The AWM6112 system has been designed and manufactured to be dependable, problem free, versatile and easy to use.                                             
Portability:   The color cardboard box is designed to be carried easily and is, hence, highly portable.                                    
Quality: The AWM6112 system has been engineered to have a wide audio frequency range, high S/N ratio, and outstanding performance. Three NiMH AA rechargeable batteries are used for each handheld microphone to avoid the traditional NiCd battery memory problems.                                 
Affordability:    The AWM6112 system is intended to be readily accessible to everyone with exceptional performance at a preferred and affordable price.                                           
AWR6112 RECEIVER
FEATURES
* VHF Band Frequency
* Recharge Mechanism Built-in on the Receiver
* Balanced and Unbalanced Audio Outputs
* Full Rack Case with Power and RF Indicators
* Fluorescence Display
* RF Input with Built-in RF Preamplifier to Improve S/N Ratio, Sensitivity and Dynamic Range
* Low Noise Mixer Circuitry for Reducing interference
* 120V-240V AC Power Supply
FRONT PANEL FUNCTIONS
Power On/Off Switch
Channel 1 Volume Level Control
Channel 1 Recharge LED Indicator
Fluorescence Display
Channel 2 Volume Level Control
Channel 2 Recharge LED Indicator
REAR PANEL FUNCTIONS
Channel 2 Antenna
Unbalanced Mixed Audio Output (1/4" Jack)
Balanced Mixed Audio Output (XLRM Jack)
Channel 1 Antenna
AC Power Cord
FREE TRAINING ON ALL OUR PRODUCTS 
LIMITED TIME WARRANTY - 1 YEAR