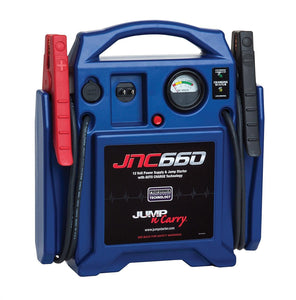 Brand: Clore Automotive
Color: Blue
Features:
1,700 Peak Amps; 425 Cranking Amps. Built-in charger. Charger Type- Automatic
PROFORMER battery technology is designed to provide extremely high power output, extended cranking power and a long service life
46 inch heavy-duty #2 AWG cables; copper insulated
Voltmeter provides charge status of onboard battery
DC outlet to power 12 volt accessories; DC input to recharge internal battery
When the unit is not in use, we recommend that the battery is charged at least every 30 days.
Publisher: Clore Automotive
Details: Jump-N-Carry JNC660 1700 Peak Amp 12-Volt Jump Starter
UPC: 10271025350
EAN: 782386223111
Package Dimensions: 15.9 x 13.8 x 5.4 inches