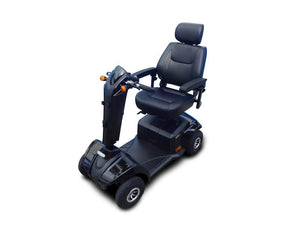 Ev Rider - City Rider
FEATURES:
Top Speed - 5.7mph
Full Charge Range - 17 miles
Weight Capacity - 160kg (350 lbs)
All-Round Standard Suspension System

Upholstered Captain's Chair

Adjustable Tiller

Full Lighting System (Front & Rear)

Rear View Mirror

Separate Cable Break

 
3 Year Limited Warranty
Free Standard Shipping
DESCRIPTION:

This stylish addition, the CityRider, incorporates excellent features for an impressive mobility scooter. The CityRider ensures reliability and smooth, effortless control with its ingenious design.
The CItyRider gives you a relaxing ride wherever you travel thanks to an all-round suspension system fitted as standard. Coupled with a well-upholstered captain's chair and an adjustable tiller, The CityRider lets you find the perfect position for driving in comfort.

For your on-road safety, the CityRider is fitted with a full lighting system front and rear, as well as a rear view mirror and a separate cable brake for peace of mind. This is a compact scooter, but it still manages to offer the performance of larger models with a top speed of 5.7mph, a range 17 miles\ on a full charge, and a weight capacity of 160kg (350 pounds).

SPECIFICATIONS:
Scooter size ( L x W x H ) : 46.4" ×23.2" ×48.8"/ 1180mm×590mm×1240mm
Base weight : 114lbs/51.8kg
Battery weight : 52.8lbs/24kg
Seat weight : 39.6lbs/18kg
Total weight : 206.4lbs/93.8kg
Front Wheel : 300-4×2(10")
Rear Wheel : 300-4×2(10")
Anti-tip wheel : 2.24"/57mm
Battery : 36Ah×2
Charger : 4A Off-Board
Charging time, hours : >8hr
Motor : 400W 3400RPM
Turning radius : 56.3"/1430mm
MAX. speed : 5.7 MPH
Cruising range : 17miles/27.3 km
Weight capacity : 350lbs/160kg
Maximum climbing angle : 8°
Controller : PG70A
Warranty :
THREE-YEAR LIMITED WARRANTY: Three (3) years from the date of purchase on all structural frame components; including platform, seat post, and frame.

O

ne (1) year from the date of purchase, if any part or electronic component of the Scooter

or charger

is found upon

examination to be defective in material and/or workmanship, it will be repaired or replaced, at EV Rider

, LLC

's option,

without charge.

L

abor charges are NOT included.

The purchaser is responsible for the delivery to the authorized

repair facility.

Satisfactory proof of purchase, serial number and the date of purchase are always required.