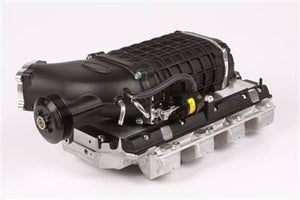 DETAILS:
Horsepower gain: 110+ hp
TVS2300 supercharger head unit, 6 psi
Highly Effective Air-to-Water Intercooler
Fuel Pump Supplied: Not Supplied
Fuel Injectors Supplied: High Flow Fuel Injectors Supplied
Computer/Ignition Mods.: Not Supplied
180deg. rotation of the supercharger provides a straight airflow path for maximum power and efficiency
Internal Bypass Valve virtually eliminates parasitic loss to give you stock-like fuel economy when cruising or in highway driving (uses less than 1/3 of a horsepower at 60 mph)
Delivers a proven increase in real world "under the curve" power
High thermal efficiency
2.4 pressure ratio capability
High helix four-lobe rotors with 160deg. of twist
Redesigned inlet and outlet ports
Improved air-handling characteristics
Acoustically designed for noise and vibration reductions
Utilizes all factory "push-lock" connectors
CARB EO# D-488-36
Instant torque for towing and offroading, screaming top-end for the street
Unleash the true potential of your GM Truck with Magnuson's TVS2300 Supercharger Kit. The industry's first supercharger kit for the 2014+ Chevrolet Silverado 1500 6.2L (Direct Injection), this bolt on supercharger is designed to deliver maximum performance while retaining factory-like drivability and reliability. Generating 6 psi of boost, the Magnuson Supercharger delivers power gains of approximately 110 horsepower and 100 lb-ft of torque at the rear wheels, for a total of 480 hp and 490 lb-ft at the wheels (about 580 HP at the crank)! But peak horsepower and torque numbers don't tell the whole story. "Under the curve" power is significantly enhanced delivering near instantaneous boost and torque upon demand that really pins you back in your seat. So whether you are roaring down the drag strip, towing a trailer, hauling a heavy load, or taking the family cross-country our TVS2300 supercharger will give you the torque and horsepower when you need it.
Industry-leading Intercooler Performance
Inside of the supercharger manifold, a large liquid-to-air intercooler keeps your Intake Air Temperatures in check and provides consistent and repeatable performance. Combine that with the front-mounted heat exchanger, electric water pump, and intercooler coolant reservoir and you have a supercharger system that has IATs that are typically only 20-40 degrees (Fahrenheit) over the ambient temperature.
Bypass valve for fuel economy - horsepower without compromise
Maximizing your efficiency during cruising is the job of the supercharger's integrated bypass valve. This vacuum operated system allows air to bypass the supercharger and the rotors to "free-spin" under light engine loads. During this situation the parasitic loss of the supercharger system is essentially negated taking less than one-third of a horsepower to turn the rotors. This bypass valve also allows your supercharged vehicle to maintain stock-like drivability and fuel economy - giving you a package that delivers power without compromise.
Down to the smallest part, our bolt-on supercharger systems are engineered as a complete package.
The supercharger, supercharger intake manifold, inlet, pulley, fuel injectors, fuel rails, front & rear fuel crossovers, and intercooler come pre-assembled to make installation simple and easy while the accessory box is organized into individual sub-assemblies to help ensure that you don't lose track of parts in the middle of your install. All of the hardware needed for a full and complete install is also included so you won't be running to the local parts store in the middle of your installation. In addition, our full color, step-by-step Installation Manuals will walk you through the install process with exacting attention to detail.
OEM level reliability
Magnuson's TVS1900 supercharger utilizes EATON's latest 6th Generation supercharger rotor technology found in such industry leading performance vehicles as the Corvette ZR-1, the Cadillac CTS-V, and the Mustang GT500. These Twin Vortices Series Superchargers feature a pair of four-lobe, high-helix rotors with 160-degrees of overall twist that are housed in Magnuson's patented high-flow housing. This highly efficient package requires less power to drive, delivers cooler discharge temperatures, and is much quieter than many of its competitors. These superchargers are all manufactured in our TS16949 certified facility – the highest ISO OEM quality certification standard in the market.