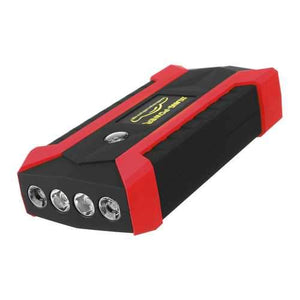 Feature:
1.The necessary compass for mountaineering, camping and other outdoor activities.
2.Waterproof and dustproof.
3.The battery capacity is large, durable and safe.
4.Small size, slim and easy to carry.
5.Low temperature resistance, high temperature resistance.
6.Providing power to the car, starting the car in a flash, simply solving the dilemma.
7.No need to install, no need to set up, just use a clip to connect the car positive and negative, open the power switch, the car can start. (red - positive, black - negative)
1.Instantly start the car, safety and emergency necessities.
2.Efficient intelligent charging, with adapter and charging line, can be applied to more than 95% notebook, mobile phones, tablet PCs,cameras and other electronic equipment.
3.1W super bright LED flashlight, with flash mode, can convert SOS emergency mode.
4.Temperature protection, short circuit protection, constant voltage protection, constant current protection, over charge protection, overdischarge protection, balance protection, magnetic field protection.
Specification:
| | |
| --- | --- |
| Color | Black and Red |
| Material | ABS |
| Capacity | 12000 mAh |
| Host weight | <445g |
| Set weight | <1.2kg |
| Service temperature | -20℃-60℃ |
| USB output | 5V---2A |
| Laptop output | 12V-16V-19V |
| Input current | 15V/1A |
| Three light mode | LED torch,Red and blue lights,SOS,LED explosion-flashing |
| Cycle life | 3000 times |
| Size | 170*80*30mm |
| Applicable vehicle type | Gasoline car 6.0, Diesel engined car 4.0 |
| Starting current | 300A |
| Peak current | 600A |
Package Included:
| | | |
| --- | --- | --- |
| 1 X Car Jump Starter | 1 X Power Adapter | 1 X Car Charger |
| 2 X Battery Clamps(Black+Red) | 1 X 4 in 1 Mobile Phone connectors | 8 X Laptop connectors |
| 1 X Laptop Adapter Cable | 1 X User Manual | 1 X Carrying Bag |
,,,,,,,,