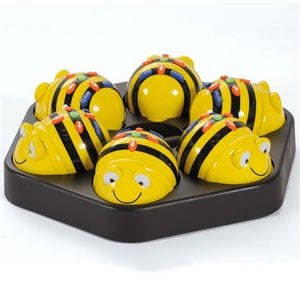 Great Value set of 6 rechargeable Bee-bots with Docking Station
New and improved, Award winning programmable floor robot Bee-Bot is now rechargeable! 
Bee-Bot is an exciting robot designed for use by young children. This colorful, easy-to-operate, and friendly little robot is a perfect tool for teaching sequencing, estimation, problem-solving, and just having fun!
Sturdy construction and colorful design entice children to put Bee-Bot through its paces. Directional keys are used to enter up to 40 commands which send Bee-Bot forward, back, left, and right. Pressing the green GO button starts Bee-Bot on its way. Bee-Bot blinks and beeps at the conclusion of each command to allow children to follow Bee-Bot through the program they have entered and then confirms its completion with lights and sound. Children want to use Bee-Bot over and over and are inspired to enter ever more creative and complex command sequences.
Rechargeable Bee-Bot comes with USB Recharger Cable
Features:
Robust and small design
Clear and bright buttons
Memory of up to 40 steps
No confusing degrees to program
Sounds and flashing eyes confirm your instructions
Fantastic cross-curricular resources also available
Moves accurately in 15cm steps at a time and turns in 90°