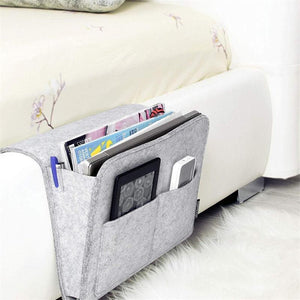 Don't let a cluttered living area get you down. Stop losing things lying around and get organized with this helpful companion. Simply slide it under your mattress or sofa cushion and start saving space. It keeps all your small gadgets and items tucked away conveniently in one place and within arms reach so you won't have to get up to look for them. 
Designed with 1 big pocket for laptop, tablet, books, or magazines, 2 inner pockets, and 2 outer pockets for smaller items, like glasses, phones, or remotes. There are 2 side cable holes at the bottom for threading chargers and headphone wires. 
---
The high-quality bedside organizer is made of felt with reinforced stitching for strength and durability while keeping items safe. Neutrally colored to blend with any decor style. Having this at your bedside is perfect for finding your glasses, phone, or medication in the dark.
FEATURES:
Pockets: 1 big, 2 inner, 2 front

Side cable holes

No assembly required

Easy to clean

Anti-slip

Material: felt + reinforced stitching

Size: 22x27x8 cm/8.7x10.6x3.1 inches

Color : Light Gray 
SAVE SPACE: The bedside pocket can store all of your belongings together by your side while in bed, on the sofa or at your desk. Store things such as tablets, mobile phones, remote control, magazines and books, headphones, pens, glasses, medications and so on.
INSIDE POCKET DESIGN: With one big main pocket, two inner pockets, and 2 front pockets for smaller items.
HIGH QUALITY: The bedside organizer is made of strong and durable anti-scratch felt with reinforced stitching.
KEEP THINGS WITHIN ARMS REACH: A convenient and inexpensive solution for keeping your place neat and your things organized and handy at all times without having to get up and search for them. Have one safe and standard place and never lose things again.
FIND THINGS IN THE DARK: From your glasses to your phone to medications, make it easy to find whatever you need in the dark by keeping it right by your pillow.The thick felt keeps items safe and snug and also reduces noise – no more clattering around opening drawers or cupboards!