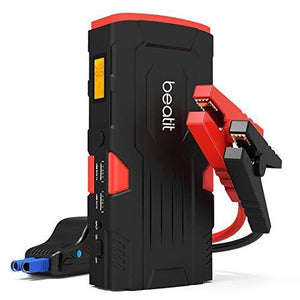 [Specification]
Self-Discharge: 10-15% per year
USB output : 5V/2.1A, 5V/1A
Charger mode: CC/CV 15V/1A
Start current: 250A
Peak current: 800A(3S)
Cycle life: 3,000times
Capacity: 66.6Wh/18000mah
Operating temperature range: -25°c to +60°c
[A must have for every car!]
Make sure you and your loved ones can get home when stranded. It will jump start6.0L gas or 5.0L diesel?engine up to 30 times on a single charge.
[ Power Indicator]
The indicator shows you the remaining power , helps you to use the power better and protect your devices.
[MANUAL & ATTENTION:]
1.Always connect the black clamp to the negative ( - ) terminal of the car battery first, then connect the red clamp to the positive ( + ) terminal of the car battery .
2.Do not touch the red and black cable clamps together or connect both cable clamps to the same piece of metal.
3.If the engine does not start immediately on the first try, disconnect the jumper cables from the car battery and wait at least 10 seconds before reconnecting the jumper cables to the car battery and attempting to start the engine again.
4.Once the engine has successfully started, disconnect the jumper cable clamps immediately.
5.Do not use jump starter to start vehicle if the number of battery indicators are less than 20% to protect the jump starter from damage.
6.Press the switch 3 seconds to start If you want to use flashilight for illumination and select the status (light, strobe, SOS, close) by pressing the switch to transform.
[Package: ]
1 x Beatit jump starter
1 x 12V battery clips
1 x USB cable for smart devices
1 x Power supply adapter
1 x Car charger
1 x Smart leather bag
1 x User manual
Jump Starter Car Life Saver:Jump starts your vehicle (up to 6.0L gas or 5.0L diesel engine) up to 30 times with 800 amps of peak current and heavy duty clamps and cables.
The kit is compact enough to store in your glove box. Recharges in just 5.5 hours using the included charger.
Power Bank With Quick Charger :With 18000mAh Battery Capacity And Dual Smart USB Charging Ports, this model can be used to charge smartphones, tablets, laptops kindle and other devices at a speed of 2.1A (10W). That is 2 times faster than the most common power banks. Advanced Protection: The intelligent jumper clamps (unlike the simple clamps) has over current protection, short circuit protection, overload protection, over-voltage protection, over-charge protection.
New Added Function: LCD lights can exactly show the remaining power; 2X USB charging ports can be used as a portable battery charger; SOS Flash Light is helpful when taking outdoor adventures and emergency use.
What You Get: Beatit Jump Starter D11, intelligent jump cable clamps, 12V wall charger, 12V car charger, USB cable, portable compressive case (gift), welcome guide, our fan-favorite 2-year warranty and friendly customer service. Service Email: service@beatithelp.com