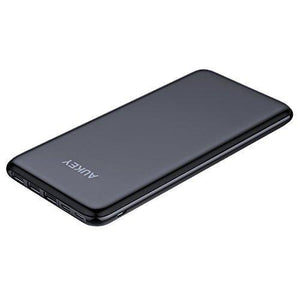 Trusty Travel Companion
A convenient and reliable power solution for your life on-the-go, with a substantial 20000mAh of charging power and 4 output ports for almost any device-charging need. Looking good in your hand or on the desk, this power bank can be slipped in a backpack to keep you powered on a journey.
3A USB-C Charging
Fast and future-proof charging technology for a whole range of new USB-C devices. Charge compatible devices at high speed with 5V 3A output. Easy, hassle-free connection for power with the small, reversible USB-C connector.
AiPower Adaptive Charging Technology
Tuned to support healthier battery function and faster USB charging speeds, AiPower intelligently adjusts power output to match the unique charging needs of all your USB-powered gear.
Complete Compatibility
Compatible with all 5V USB-powered devices including new USB-C devices, Apple & Android cell phones, tablets, wireless headphones & speakers, and more.
Powerful and Safe
Advanced circuitry and built-in safeguards protect your devices against excessive current, overheating, and overcharging. Powerful and effective device charging without a worry.
24-Month Warranty
Whether it's your first AUKEY purchase or you're back for more, rest assured that we're in this together: All AUKEY products are backed by our 24-Month Product Warranty.
Specifications
Model: PB-Y14
Battery Capacity: 20000mAh / 74Wh
Battery Type: Lithium Polymer
Charging Time: 10 hours
Micro-USB Input: 5V 2A
Lightning Input: 5V 1.5A
USB-C Input / Output: 5V 3A
Total Output: 5V 3A
Total Power Output: 15W
Dimensions: 200 x 96 x 14mm / 7.87" x 3.78" x 0.55"
Weight: 435g / 15.3oz
Universal Charging: 3A total output to charge a USB-C device and three USB-A devices simultaneously (the USB-C port can supply a powerful 3A by itself). Recharge your power bank via USB-C, Lightning, or micro-USB port
Large Capacity: 20000mAh to charge your iPhone 8 7.3 times, or 9.7-inch iPad Pro 1.5 times, or Samsung Galaxy Note8 4 times
Refined Design: Slimline form makes it comfortable to hold and matte surface keeps it free of fingerprints, so you'll like using this power bank for a long time to come. Minimalist LED indicator shows remaining battery level at a glance
Safety Features: Built-in safeguards protect your devices against excessive current, overheating, and overcharging
Package Contents: AUKEY PB-Y14 20000mAh Power Bank, USB-A to USB-C Cable, User Manual, 45-Day Money Back Guarantee and 24-Month Product Replacement Warranty Card