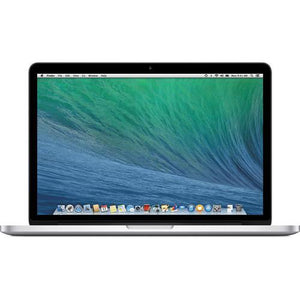 NOTE: This product is Grade B Refurbished and comes in Hassle-Free packaging. Warranty: 30 Day Warranty

The 13.3" MacBook Pro Notebook Computer with Retina Display from Apple is a powerful notebook computer with an innovative, ultrathin, ultraportable aluminum unibody design. It is loaded with advanced power management features and an integrated lithium polymer battery, which work together to provide up to 9 hours of wireless web browsing.

The widescreen, LED-backlit IPS screen has a glossy finish and a native resolution of 2560 x 1600. With 227 pixels per inch, this MacBook Pro has a pixel count of over 5 million. You'll be able to output to 2 external displays at up to 2560 x 1600 via Thunderbolt 2 (Mini DisplayPort). Any Mini DisplayPort-compatible display will plug in without the need for an adapter. This MacBook Pro also adds an HDMI support so HDMI-compliant devices, particularly HDTVs, are now natively supported as well. Graphics are handled by integrated Intel Iris Graphics.

The system is powered by a dual-core 4th generation Haswell 2.4 GHz Intel Core i5 processor. The 4th-gen Haswell processor uses low voltage for improved battery life without sacrificing performance. The MacBook Pro with Retina Display also has 8GB of onboard 1600MHz DDR3L RAM, 256GB of PCIe-based flash storage and a SDXC media card slot. You'll be able to connect to the Internet with fast-speed 802.11ac Wi-Fi. The MacBook Pro also supports a/b/g/n Wi-Fi networks as well. The MacBook Pro also features built-in Bluetooth 4.0, which allows you to connect wireless headphones, keyboard, mice and other compatible peripherals without a hassle.

This MacBook Pro has dual Thunderbolt 2 ports, a high-speed interface that can move data at an amazing 20Gbps, which is four times that of the USB 3.0 standard. Speaking of USB 3.0, Apple still supports USB 3.0. This MacBook Pro now features two USB 3.0 ports so you no longer have to buy an adapter, but can use USB 3.0-compliant devices natively as well. There is also a MagSafe 2 power port, which uses a magnetic connector that safely disengages from the computer when accidentally pulled. Please note that MagSafe 2 is not compatible with MagSafe adapters.

The computer features a comfortable backlit chiclet-style keyboard, which features space between each key for improved accuracy and comfort when typing. It also sports a glass multi-touch trackpad with a clickable design. Rather than having a separate button for mouse clicks, the entire surface of the pad is clickable. This increases the active surface area and allows you to quickly click without having to maneuver to the bottom of the trackpad.

The trackpad also fully supports multi-touch gestures. You can tap the trackpad with one finger to click, tap with two fingers to right click, scroll through documents using two fingers, pinch to zoom, navigate through Safari or iPhoto with three-finger left and right swipes or use two fingers to rotate a photo or PDF.

The MacBook Pro with Retina Display comes with a complete suite of digital creativity applications. Easy enough for anyone to use, iMovie will help you edit your home movies, iPhoto will organize digital photos, and GarageBand lets you compose original music.

Stay productive with the MacBook Pro with Retina Display. Pages allow you to make creative word documents. Numbers helps you make spreadsheets more visually insightful. Keynote allows you to create a powerful presentation, complete with animated charts, interactive tables with cinematic effects and transitions. Pages, Numbers, and Keynote are available as free downloads via the Mac App Store.

The 64-bit Mac OS X features Time Machine backup, which automatically backs up system data to an external hard drive. It also features intuitive Cover Flow navigation, the powerful Spotlight search tool and Quick Look document preview. You'll be able to use Boot Camp to run Windows on your Mac, if needed.


Condition:
Grade B Refurbished
Warranty:
30 Day Warranty
Features:
2.4 GHz Intel Core i5 Dual-Core Haswell
8GB of Onboard 1600MHz DDR3L RAM
256GB PCIe-Based Flash Storage
Integrated Intel Iris Graphics
13.3" LED-Backlit IPS Retina Display
2560 x 1600 Native Resolution
802.11a/b/g/n/ac Wi-Fi, Bluetooth 4.0
Thunderbolt 2, USB 3.0, HDMI
FaceTime HD Camera, Dual Mics
Includes Mac OS X 10.10 or OS X 10.9
Packaging:
Hassle-Free
What you get:
One [1] Laptop
One [1] Charger