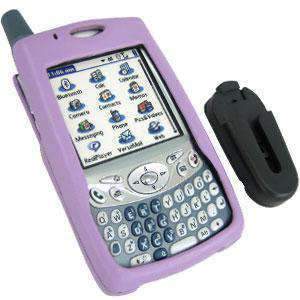 The hard leather case protects your Treo from bumps and scratches. In order to afford maximum strength, the rear part is specially reinforced and tested under heavy stress conditions. The systems ease of use and quick installation let you carry your Treo everywhere on its belt clip. A simple press with the fingers frees your case. Color: Deep Pink.
MORE INFORMATION
Features:
Give your Treo a fashionable look and feel with this AMZER Stars Black Design Case.
Smooth to the touch! Definitive fit for maximum protection!It's a perfect couple for your Treo without adding extra bulk.
Custom made with the highest quality material to fit your phone perfectly.
Hard cover just snaps right over your Treo.
Easy snap on installation – No tools required.
Allows you to plug your charger, cable or headset without removing the case.
Reduce wear and tear to your Treo while enhancing its look.
Defend from scratches, dust or anything else that comes into contact with your Treo.
Legion conspicuous colors to choose from for that custom show!
Specifications:
Cutouts for all ports and functionalities.
Material: Durable plastic material.
2 pieces of Snap on pieces.
Manufacturer: AMZER.
Color: Clear.
SKU: 
90148
PARTNO: 
AMZ90148
UPC: 
8903384034581
COMPATIBLE MODELS:
Treo 700wx
Treo 700w
Treo 700p
Treo 650