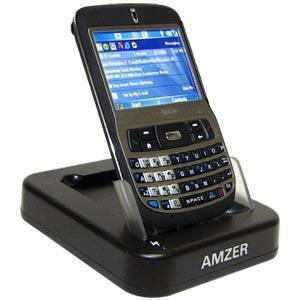 Synchronize and recharge your T-Mobile Dash with the USB Sync and Charge Cradle. The USB Docking Cradle holds your T-Mobile Dash at a comfortable reading angle and provides convenient access on your desk. Charge and synchronize data simultaneously when connected to your PC.
MORE INFORMATION
Fommy Product Review:
Looking for a great way to keep your T-Mobile DASH always at your fingertips and fully charged? The AMZER Desktop Cradle with Extra Battery charger for your T-Mobile DASH provides a simple and elegant solution for all your cradle needs.
First, the cradle comes with both a USB charging cable and a wall adapter, and both cables are appropriately long for either a nearby computer or a wall outlet. There is one small thing you should be aware of: the extra battery compartment won't charge unless plugged in directly to the outlet due to the low power generated by the USB output.
The design is very convenient to use, just slide the T-Mobile DASH right in, gravity does the work for you, no fuss, no moss, no extra cables, and no nothing. Additionally, I really like the independent lights for both the battery compartment and the phone itself which lets you know everything is working and charging correctly at all times.
This cradle is very handy and doesn't impede usability at all, and makes for a great platform to either watch movies, listen to music, make calls on the speakerphone or just keep your T-Mobile DASH within easy reach at the home or office.
Features:
Smart charge technology allows you to charge very quickly than ever!
You can rapidly synchronize and recharge your Treo with any USB-enabled Notebook, PC or MAC.
Comfortable reading angle and provides convenient access on your desk.
Comes with blue light LED indicator to indicate the charging status.
A second battery simultaneously while charging your T-Mobile DASH.
Sync is initiated from the HotSync application on the T-Mobile DASH.
Specifications:
Extra battery charging slot.
AC Charger included.
Mini USB Cable included.
Manufacturer: AMZER.
Note:
Spare battery charging enabled only when used with AC Charger.
SKU:
81763
PARTNO:
AMZ81763
UPC:
8903384041930