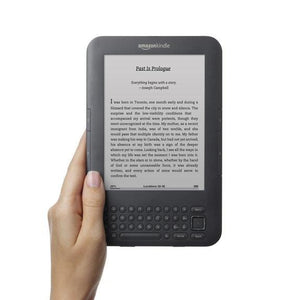 NOTE: This product is Refurbished and comes in Bulk packaging. Warranty: 30 Day Warranty


The all-new Kindle has a new electronic-ink screen with 50 percent better contrast than any other e-reader, a new sleek design with a 21 percent smaller body while still keeping the same 6-inch-size reading area and a 17 percent lighter weight at just 8.5 ounces. The new Kindle also offers 20 percent faster page turns, up to one month of battery life, double the storage to 3,500 books, built-in Wi-Fi, a graphite color option and more.
If your Fire tablet or Kindle e-reader includes Special Offers, you'll receive Sponsored Screensavers and special offers, including personalized advertising, from Amazon directly on your device when in sleep mode. To unsubscribe from Special Offers, contact Amazon Customer Support for assistance.
Condition:
Refurbished
Warranty:
30 Day Warranty
Features:
Kindle with Special Offers
Wireless
6" Screen
0.64lbs
Packaging:
Bulk
What you get:
One [1] E-Reader
One [1] Cable
One [1] Wall Charger