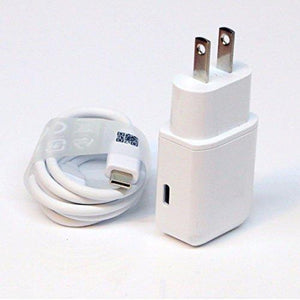 Color: white
Features:
Keep your Xolo Q1000s charged and Future Proof with this dual Cable Kit!
This OEM USB Type C Charger comes with a 1M (3.3ft) Micro-USB 2.0 and Type-C Cables.
Simultaneously charge and transfer data from your device through your MAC / PC's USB-C/Type C Port.
Charge rapidly a Micro-USB or USB-C Device with a rate of up to 3A or 21 Watts if supported.
*BUY NOW - NEWEST VERSION WITH DUAL CABLES NOW AVAILABLE!*
Details: OEM Professional Xolo Q1000s Quick Charge 3.0 Adaptive Fast Wall Charger with 2 Cables for USBC and MicroUSB. [White/1M Cables]
-Is an all in one solution to saving you time and money using your device.-Advanced Quick Charge 3.0 Circuitry Also works with the USB 3.0 Ports.-Charger Specifications are: 1 USB TypeC Connection/ USA Plug / 110-240v/ 5.0V=3.0A (Fast Charge) / 5.0V=1.8A (Standard Charge)*NOT ALL Phones support all charging Fast, Quick Adaptive Modes, but his charger does. This makes this charger the last one you will ever need for future and current technologies!
UPC: 744259015667
EAN: 0744259015667