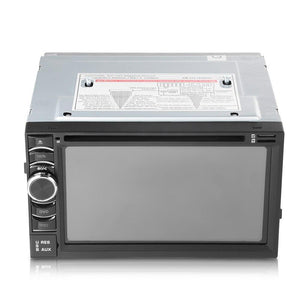 Features:

The countrys of map include:(Kindly choose the corresponding MAP which you belong)
European Map: Belgium, Netherlands, Luxembourg, Germany, Austria,Liechtenstein, Switzerland, Andorra, Gibraltar, Portugal,Spain, Iceland, Norway, Sweden, Denmark, Finland,UnitedKingdom,United Kingdom, Ireland, Italy, San Marino, Vatican City, Cyprus, France, Monaco, Malta, Poland (Poland), Slovakia , Czech Republic, Hungary, Estonia, Lithuania, Latvia,Greece, Bulgaria, Slovenia, Croatia, Albania,The former Yugoslav Republic of Macedonia, Kosovo, Belarus,Bosnia-Herzegovina, Moldova,Montenegro, Montenegro, Serbia, Russia, Ukraine, Turkey
North American Map: United States (USA), Canada , Mexico
South American Map: Brazil, Chile, Argentina, Peru, Uruguay, Colombia,Venezuela, Costa Rica
Southeast Asian Map: Singapore, Malaysia, Brunei Darussalam,Thailand, Indonesia, Philippines, Vietnam
Description: Enjoy the crisp sound and a clear display with this 6116G Wince 6.0 car DVD player . The 6.5 inch TFT LCD touch screen provides a great visual experience. You can enjoy your favorite movie anytime and anywhere. Bluetooth connectivity lets you have a hands-free call which makes driving easier. With GPS function, you can download the GPS APP to find your perfect route. You will find that it is easier to go to a new or complex place with it, travel has never been so convenient! Say goodbye to those boring driving days, have it, you could make driving more interesting!   Main features: - Capacitive TFT LCD touch screen: support 5 point touch, real full touch panel is more convenient for you to use - Wince 6.0 OS: compatible with the vast majority of Wince syatems, you can install your favorite APPs and enjoy advanced technology - Bluetooth 2.0: support Bluetooth music and phonebook functions, when you have an incoming call, the music will automatically pause, so you may enjoy a hands-free conversation - Rear-viewing: display the backing track for some cars which with CAN protocol, grasp the road condition accurately to avoid the accidents - Built-in GPS: you can download online GPS APP or get offline map source from map suppliers to use satellite navigation, and map can be run in the background - Multi-function: FM / AM / RDS radio function, steering wheel control, subwoofer output function, AUX input connector jack - OSD language: Simple Chinese, English, Traditional Chinese, Indonesia, Russia, Thai, Arabic, Spanish, German, Portuguese, Turkish   Specification: - Operating system: Wince 6.0 - Bluetooth version: 2.0 - Bluetooth distance: 5m - Resolution: 800 x 480 - CPU: RK3188, quad-core 1.6GHz - GPU: Mail - 400MP - Frequency range: FM 87.5 - 108MHz, AM 87.5 - 107.9MHz - E-book: PDF, TFT - ROM: 14.68GB, RAM: 1GB - Remote controller battery: 1 x CR2025 battery ( included )     FAQ: Question 1: how can I ensure it suits for my car? Answer: we usually define the item fits or not fits your car by measuring the dash board of the car. Our product is universal 2 Din ( L x W x H: 17.8 x 10.0 x 16.5cm ). Please measure the size of the dash board.
Question 2: does the GPS give oral ( voice ) instructions? Answer: yes, it supports voice guidance.
Question 3: can I run DVD and GPS / radio at the same time? Answer: yes, it supports radio / disc / Bluetooth / USB / SD playback while navigating.
General Pre-loaded Maps Yes Screen Screen type Digital touch screen Screen size 6.5inch Hardware Configuration AM/FM Radio support RDS function Video/Audio/Image DVD Video Format FLV USB/SD Video Format AVI,ASF,MPG,FLV,MP4,RMVB,RM,MOV,VOB Picture format JPEG,GIF,BMP,PNG Media Format AVI,ASF,FLV,AAC,MP3,WAV,WMA Other GPS Navigation Support series of GPS software OSD Language English,Spanish,Portuguese,Russian,German,Turkish,Indonesian,Arabic,Chinese,etc Power Output 4 x 40W Power Supply DC 12V Dimension/Weight Product weight 1.4610 kg Package weight 1.9700 kg Product size (L x W x H) 17.80 x 10.00 x 16.50 cm / 7.01 x 3.94 x 6.5 inches Package size (L x W x H) 20.00 x 14.50 x 20.50 cm / 7.87 x 5.71 x 8.07 inches Package Contents Package Contents 1 x 6116G Wince 6.0 Car DVD Player, 1 x GPS Antenna, 1 x Power Cable, 1 x Remote Controller ( Battery Included ), 1 x English Operating Manual
Specification:
OSD Language: Thai
OSD Language: Arabic
OSD Language: French
OSD Language: Spanish
OSD Language: German
OSD Language: Russian
OSD Language: Portuguese
OSD Language: Chinese (Traditional)
OSD Language: English
OSD Language: Chinese (Simplified)
Digital Media Format: JPEG
Digital Media Format: WMA
Digital Media Format: DVD-R/RW
Digital Media Format: CD
Digital Media Format: Mp3
Digital Media Format: Mp4
Special Features: FM Transmitter
Special Features: MP3 Players
Special Features: Radio Tuner
Special Features: Built-in GPS
Special Features: CD Player
Special Features: Touch Screen
Special Features: Bluetooth
Special Features: Charger
Max External Memory: 32G
Voltage: 12V
Operating System: Windows Ce
Resolution: 800 x 480
Material Type: Metal,ABS
Special Feature: Built-In Speaker/Microphone
Model Name: 6116G
Item Weight: 1.946kg
Brand Name: GBtiger
Display Size: 6.5"
RAM: 1G
Din: Double Din
Item Size: 17.80 x 10.00 x 16.50 cm / 7.01 x 3.94 x 6.5 inches
Out Power: 4 x 40W
TF/Micro SD Slot: 2
ROM: 14G
Featrue: CD Player, DVD Player
Apply: Universal for 2Din Cars