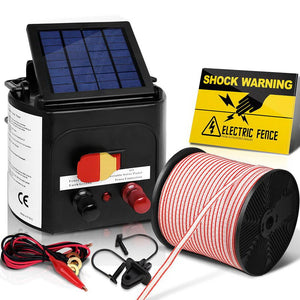 FREE SHIPPING offer on this product extended to 30th September 2019
Worried about livestock and animals escaping your property? Or keeping pesky animals from neighbours or the wild away? This Solar Electric Fence Energiser is perfect solution to set everything in its place.
Whether it is used on the farm or around your suburban home, the Solar Fence Energiser can be effective in either environment. Sporting a basic and simple-to- install design, you can have it up in a matter of minutes. Our Fence Energiser is compact, lightweight and versatile - making it an effective low maintenance item around the property.
Be it a few hundred metres or 5km, our Fence Energiser can continuously keep your fence charged. If activated by an animal coming into contact with the fence, the unit will only generate a brief pulse to prevent harmful electric shocks as the voltage will drop from 8KV to 1.2KV (which is still enough to make the animals back off).
Fully charged, the Fence Energiser, with its more efficient monocrystalline solar panel, can store energy of up to 20 sun-less days and has protective functions to prevent over charging and reverse battery malfunction.
Now offered with bonus warning signs, polytape and insulators, our Fence Energiser is all geared up with great value for you.
Features
Fence Energiser

5km solar electric fence energiser
0.15J fence energiser w/ lead acid battery
Excellent device to keep livestock on grounds
Monocrystalline silicon solar panel provides a more efficient power
conversion
Protective functions - over charge protection & reverse battery protection
Fully charged battery can work up to 15-20 sunless days
Waterproof; offers continuous service
Brief pulse function to prevent harmful electric shocks
Connection cables included
Bonus 4 x warning sign sticker
CE approved
Polytape
Highly visible red and white tape to reduce accidental contacts
Compatible with fence energiser
5 strands of 0.20mm stainless steel
Tightly wound and UV stabilised; avoids disintegration under sun
Antirust and high conductivity stainless steel wire
Great for horse fencing
Ideal for livestock fencing and control grazing
Specifications:
Discharge energy: 0.15J
Output voltage: 8kV (+/-1.5kV)
Fence length: Up to 5km
Solar panel: Monocrystalline silicon
Solar panel size: 13.5 x 12cm
Solar panel output: 1.3W
Operation time of a fully charged battery: 15-20 days
Charge voltage: 7.5V DC
Battery: 6V 4.5Ah lead sealed
Dimensions: 19.5 x 14 x 27.5cm
Weight: 2kg
Colour: Black
Polytape:
Length: 400m/roll
Width: 12mm
Strand: 5 x 0.2MM stainless steel wire
Electrical resistance: 5.3ΩOHMS
Coating: UV treated
Colour: Red & white
Package Content
1 x Solar Electric Fence Energiser
1 x Cable Set
4 x Warning Sign
1 x 400m Polytape
25 x Post Insulator

Add this to your cart today, and pay over time with your choice of Afterpay, zipPay or Laybuy!