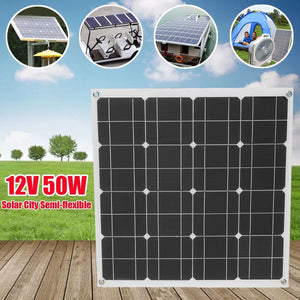 package include:
1x 50w 12v single crystal semi flexible solar panel

specifications:
product name: solar panels
color: black
size: approx. 560mmx540mmx2.5mm/22"x21.25"x0.098"
power: 50w
working voltage: 12v
operating temperature: -40℃-+85℃
pmax: 50watt
ipmax: 2.7a
vpmax: 18v
isc: 2.95a
voc: 20.5v
maximum system voltage: 700v
junction box: ip67 rated
length of cable: approx. 3m/118.1"
weight: 1918g

feature:
-light weight, easy to carry.
-high conversion rate, high output.
-resistance to resistance, can resist different environment, waterproof performance is good.
-high stability, good durability
-suitable for car batteries, car, rv, boat, , aircraft, satellites, space stations, outdoor breeding, planting, tourism, solar street lamp.