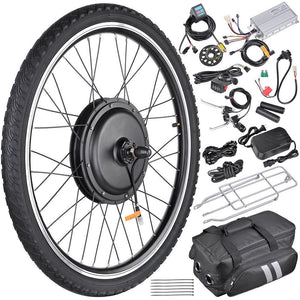 We are introducing a Brand New 800W 36V 26" Electric Bicycle Front Hub Conversion Kit ,which meets your requirement of converting your bike to an electric powered scooter/moped in much more reasonable price. With our upgraded feature, you can enjoy driving electric bike and cycling at the same time. And it's safer, securer, tidier and has longer usage life. Come to buy it today, to have your own cool electric bike.
Features:
Pedal Assistance System (PAS): let you enjoy cycling while driving electric bike
Dual Mode Controller: Motor works under Hall effect and non-Hall effect, extend life for electric bike
(For 1 mode controller, the motor only work under hall effect, if hall components inside the motor break down, the motor will stop working. But with our controller if the components breaks down, it'll switch into non-hall effect mode, the motor will still be working.)
Provides you with a whole wheel with tire, not just the tire frame
Takes less than hour to install
The kit includes motorized wheel, motor controller, speed throttle, wire harness
Quiet and reliable brushless gearless hub motor
Motor specifications: 36V / 800W / 350RPM
High motor efficiency: 75%
Motor diameter: 245mm
Wheel size:26" * 1.75"
Reinforced 32mm rim and 40mm tire
Drive system has no moving chains or gears, no friction, more efficient, less chance to break!
Brake shuts off motor automatically, saves energy, improves safety!
Half turning throttle more safe, prevent lost control
Durable 600D Oxford cloth carrying bag along with a zippered main compartment for battery
It's for bicycle only.
Package Contents:
1x 36V 800W brushless hub motor
1x 26" Front wheel (the whole wheel with tire!)
1x Electric controller
2x Brake pullers
1x Speed throttle
2x handlebar grips
1x Cruise control
1x PAS
1x Battery carrying bag
1x Rope (color will pick at random)
1set x Widing pipe/Cable tie
1x Lead Acid Battery Charger
1x Battery connection cable
1x Fuse
1x Back rack
1x Manual
Battery not included
Battery Recommendation:
1. Electrokinetic cell battery ( Li, lead-acid, NiMH battery etc.) featured in nominal voltage 36v, nominal capacity not less than 10Ah is compatible with the motor.
2. Please note that the Battery Charger in the package is for lead-acid only and it will damage the battery if you use other types of battery
Please note that the bike in the pictures is not included and for demonstration only.