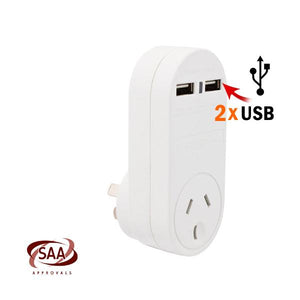 This power outlet unit provides two 2 x USB outlets and a power socket, so as not to waste a powerpoint, compared to a mere 240V to USB charger.
Designed and manufactured to high standard, this unit also provides surge protection to downstream appliances. This typically includes audio, video, entertainment and computer devices and equipment.
The USB outlets have the ability to charge or power devices that either come with USB port/s or have cables that adapt to a USB port. Devices include MP3 players, hand phones, smart phones, PDAs, GPS, Bluetooth and computer tablets.
A blue light indicator shows the presence and availability of power to the USBs and together they can supply up to 1A. This would satisfy most power hungry USB devices.
Features:
Single Australian power outlets
Surge protection
Two USB outlets for charging and powering USB devices
Power status indicator
Slimline design
Specifications:
Voltage rating: 240Va.c. 50Hz
Current rating: 10 Amp max.
Power rating: 2400 Watt max.
USB current rating: 1 Amp (Two USBs combined)
Surge protection: Yes
Power indicator: Blue