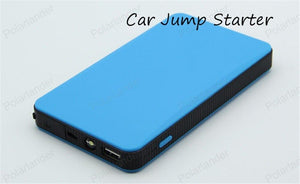 Features:
 
Voltage:12V
Item Weight:0.55kg
color:black white yellow blue red
capacity:8000mah
start current:180A
peak current:300A
fully charged time:2-3 hours
warranty:1 year
input:15V/1A
output:12V/2A, 5V/2A
Warm Tips: 
This model not contain plug only contain USB charging cable
You can use your own plug to charge. 
Thank you and best regards!
Notice:We have been studying the car jump starter since 2011.
Now let us show correct knowledges about car jump starter for you.
Due to limited volume,in fact,15000mAh is the largest capacity.
More than 15000 mAh is virtual.Based on this volume(165*65*35),
more than 15000 mAh is impossible.
Our products are a well-known brand in the world,
who have been engaged in the wholesale,now engaging in the retail,
this is the factory price.
Our objective is true,honest,high quality,100% after-sales service.
Specification:
Peak Current: 400 A
Fast Charge: None
Brand Name: VIGORTHRIVE
Special Features: Lighting
Voltage: 12V
Number Of Built-in Batteries: 2
Battery Capacity(mAh): 5000-8000
Conversion Rate: >90%
Item Weight: 1000
Certified: ce
External Testing Certification: ce