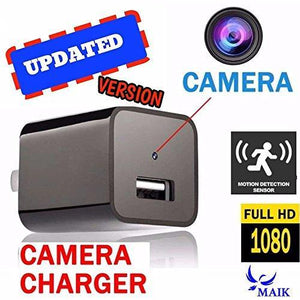 Brand: MAIK
Features:
WORRY FREE -This undetectable small hidden camera with audio Spy Gear is perfect for nanny spy cam, monitoring nursing home, teenagers, housekeeping, hotel, security in your home, ... while you are away at work, travel, or on vacation. You can also use it for hidden home security camera system, Baby Camera Monitoring, Pet camera recording. This nanny cameras and hidden cameras motion detection records on a 32gb micro SD card hidden inside the device that only you will know.
2-IN-1 - Universal USB charger & undetectable tiny hidden camera all in 1. You can use this smart charger to charge your phone. It can charge your phone or device capture video at the same time.
PLUG IN & RECORD - Start Recording when charging (plug into AC Outlet, extension cord, surge protector). Able to record and charge your phone simultaneously. Access captured footage by simply connect USB port to your computer. Video files played directly from your recorder or copy & paste to your computer.
RECORDING MODE - 90 Degree Wide Angle Motion Detection and Loop Continues Recording mode. High-definition images, Full HD 1080p at 30 frames per second), built in HD Lens
STORAGE & FILE ACCESS - 32GB micro SD card included (hold up to about 5-6 hours of video). Once smart charger has reached it maximum memory (approx. 8 hours of video), camera will automatically record over the earliest 5-minute video files in a looping fashion. TO ACCESS VIDEO: Just simple connect device to your computer with USB cable (included), you can view video direct from USB or copy & paste to your local drive to view. System Support: Window (me/2000/XP/2003/Vista) or Mac OS.
Publisher: MAIK
Details:
MAIK~Smart USB Charger Hidden Camera
High-definition Images, Full HD 1080P
Recording Mode and Motion Detection Mode
90 Degree Wide Angle View
Able to record and charge your phone simultaniously
Capable of HD recording under low illumination
Motion Detection Record Format : 1080p
Supports a maxium of 32GH (included) - can hold up to about 4-5 hours of video,
Start recording when charging
Support System: Windows(me/2000/XP/2003/Vista), Mac Os, Linux
Package included:
*Smart Charger Camera  *  USB Cable * Operating Manual

Q & A
What is the viewing angle for this camera?
90 degree wide angel view
How much video can this device hold?
Supports a maxium of 32GH (included) - can hold up to about 4-5 hours of video. You can switch out SD Card, it is removable.
How is this Smart Charger Hidden Camera powered?
It is AC Powered, camera without built-in battery. Plug into any power outlet and start recording.
You will see blue light ("L" mode) or Red Light ("M" mode) will flash 3 times, the camera will start recording automatically.
How do I switch recording mode?
Peel open the charger's front panel with your a thin or sharp device. Turn the switch to "L" setting for continuous looping recording mode. Turn the switch to "M" setting for Motion Detection.
Your satisfaction is our top priority, please contact us if you have any questions or concerns
RISK FREE & 1 YEAR WARRANTY
UPC: 689226789199
EAN: 0689226789199