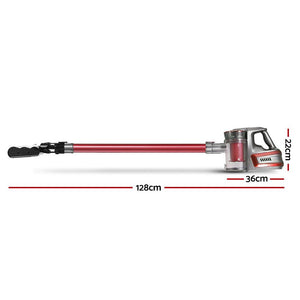 Limited Time only!!!!

FREE SHIPPING on this product for VICTORIA - NEW SOUTH WALES - SOUTH AUSTRALIA - QUEENSLAND


(Also may include other states - enter details at checkout for shipping quote)

Tracked shipping throughout purchase

12 Month Warranty For Peace Of Mind
The 150W Handstick Vacuum Cleaner now comes with a motorized roller head that has an in-built motor to power up cleaning with the help of crevices and a soft roller for tender cleaning on pristine surfaces. Better still, it incorporates a tangle-free design that prevents hair from being tangled with the roller, thereby keeping maintenance down-time to a minimum. Other great features include a pivoting head with tilt and angle adjustment, anti-static carbon fibre filaments, removable cover and brushes and not least, a LED headlight to assist cleaning in dimly lit or under furniture areas. All collected dirt and debris pass through a washable and reusable HEPA filter that eliminates up to 99.97% of dust and allergens. Not least, the rechargeable 2000mAH lithium-ion battery can run continuously up to 25 minutes on a full charge.
Features
*Cordless and lightweight
*Adjustable 2-speed suction power control
*2000mAH Li-ion battery
* (Replacement battery available in-store)
*Motorised roller cleaner head
*LED headlight
*Pivoting head
*Tilt and angle adjustment
*Flexible stick movement
*Multi-function brush nozzle
*Crevice nozzle
*One-handed design to empty dust container
*Bagless with HEPA filter
*Washable and reusable HEPA filter
* (Replacement HEPA filters available in-store)
*Eliminates up to 99.97% of dust and allergens
*25 minutes continuous running time
*Quick battery charging
Specification
*Brand:
*Power: 150W
*Suction power: 8000Pa
*Motor rotate speed: 30000rpm
*Lithium battery capacity: 2000mAH
*Running time: 25 minutes
*Charging time: 4 hours
*Dustbin capacity: 0.5L
*Tube length: 72cm
*Adaptor cable length: 180cm
*Overall dimensions: 22cm x 18cm x 128cm
*Colour: Red and Grey
Package Content
1x Vacuum Cleaner
1x Motorised Roller Cleaner Head
1x Aluminium Tube
1x Brush Nozzle
1x Crevice Nozzle
1x Nozzle Adaptor
1x Rechargeable Battery
1x Battery Charger
1x Charger Adaptor
1x User Manual
1x Bonus Standard Cleaner Head