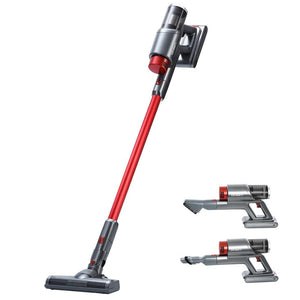 Shipping Costs - $19.90 Australia Wide **

Tracked shipping throughout your purchase

12 month warranty for peace of mind
Devanti 150W Handheld Handstick Cordless Vacuum Cleaner Stick Vac Headlight Red

The Devanti Handstick Vacuum works as a normal stick vacuum and, with just a removal of the stick, instantly becomes a handstick vacuum. Its powerful 150W 30000rpm motorized head with an LED light has a steady suction power of up to 8000Pa. And the 160° swivelling head that can be fitted with optional brushes such as a sofa brush and nozzles for different types of surface and zone cleaning that allows it to pick up dirt, debris and anything in its path easily. The one-handed design is lightweight and bagless. All collected dirt and debris pass through a washable and reusable HEPA filter that eliminates up to 99.97% of dust and allergens. Better still, the vacumm cleaner can be placed within easy reach with its wall-mounted holder and easily stored together with all its accessories in the docking station. Not least, the rechargeable 2200mAH lithium-ion battery can run continuously up to 25 minutes on a full charge.
Features
Cordless and lightweight
Adjustable 2-speed suction power control
Powerful motorised cleaner head
LED headlight
Pivoting head
Tilt and angle adjustment
Flexible stick movement
2-in-1 convertible nozzle
Sofa brush
Split type dust container
Washable and reusable sponge filter
Eliminates up to 99.97% of dust and allergens
2200mAH Li-ion battery
Up to 25 minutes continuous running time
Quick battery charging
Wall-mounted holder and docking station included
Specifications
Brand: Devanti
Power: 150W
Suction power: 8000Pa
Motor rotate speed: 30000rpm
Lithium battery capacity: 2200mAH
Running time: 25 minutes
Charging time: 3-4 hours
Dustbin capacity: 0.5L
Tube length: 68cm
Adaptor cable length: 180cm
Overall dimensions: 24cm x 15cm x 120cm
Colour: Red and Grey

Package Content
1 x Handstick Vacuum Cleaner
1 x Motorised Cleaner Head
1 x Aluminium Tube
1 x 2-in-1 Convertible Nozzle
1 x Sofa Brush
1 x Rechargeable Battery
1 x Charger Adaptor
1 x Wall-Mounted Holder
1 x Docking Station
1 x User Manual