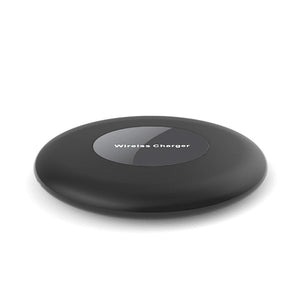 Description

It's time to innovate the traditional wired charging method! You just need such a Qi wireless charger to take the wireless charging experience to the next level. This powerful wireless charging pad allows you to charge your iPhone 8/8Plus/X, Galaxy S9/ S8/S8 Plus/S7/S7 Edge and Other Qi-enabled devices without the bondage of cable. Choose and say goodbye to tangled wires, losing charging cables, and slow wired charging speed!

Feature
 
- Color: Black.
- Material: Carbonic acid polyester
- Product size: 10 x 10 x 1.25cm
- Cable length: 80cm
- Input: 5V/2A
- Output: 5V/ 2A, 10W
- Charging efficiency: Approximately 90% 
- Transmission distance: 1mm-8mm
- Charging time: 3 hours
- Wireless charging standard: Qi standard
- Wide Compatibility. Suitable for all Qi-enabled devices like like iPhone X/ 8 Plus/ 8/  7 Plus/ Samsung Galaxy Note 8/S8/S8 Plus/for Galaxy S7 / S7 Edge, etc.
- Adoption of  advanced  QI standard wireless charging technology, 10 W big power offers up to 90% charging efficiency. Chargin speed is faster.
 - Slim and sleek, lightweight and compact design, easy to fit into your pocket or bag for easy storage and carry.
- Equipped thermal design to avoid overcharge and overheating, safe and reliable. 
- Say goodbye to tangled cables, make for a tidy and organized desk space. Soft silicone spraying bod provides comfortable grip.