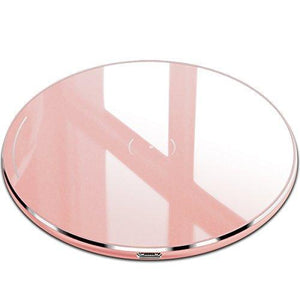 Brand: aoyusen
Color: Gold
Features:
Premium Design: 5mm - Slimmest wireless charger,LED indicators, non-slip pad, and compact build ensure simple and convenient charging,Durable mirror panel and aviation aluminum, Simple and fashion.
Charge Forward:Charge any Qi-compatible device,using highly efficient components and an advanced chipset, Supports fast charging(requires a Quick Charge 3.0 charger ).
Phone Case-Friendly: Charge straight through even extra-tough cases. (Metal attachments or credit cards will interfere with charging.)
Safe-Reliable: Built-in over-charging, over-heating and short-circuit protection
What You Get: Tuocheng Wireless Charger, Micro USB cable (AC adapter not included)
Publisher: Tuocheng
Details: Premium Design
Breathing LEDs indicate device and charger status.Non-slip charging pad keeps devices secure. Sleek, compact build takes up minimal space.

Fast Charge
Fast Charge Mode delivers 10W charging to fast wireless charge-capable device.(requires a Quick Charge 3.0 charger,input: 9V,1.69A)
Normal Charge Mode input:5V 2A

Support All
Supports all enabled wireless charging devices or devices with receiver such as iPhone X, iPhone 8/8 Plus, Samsung Galaxy Note8, S8, S8+/S8 Plus, Galaxy S7, S7 Edge, Note 5, LG G4, S6, S6 Edge, S6 Edge Plus, Nexus 6, Moto Droid Turbo, Nexus 5/7(2013)/4, Nokia Lumia 1020/920/928, MOTO Droid Maxx/Droid Mini and Other Enabled Phones and Tablets.
Note:
Please make sure that the phone is properly aligned with the center of the charging pad.

The aviation aluminum frame is excellent in heat radiation. It is normal for the receiving coil or plate to be slight warm during the wireless charging process(several degree rise is acceptable ). That will do no harm to the phone.

This Wireless Charger is compatible with most phone cases. However, phone cases thicker than 4mm may affect the wireless charging.
UPC: 666389593023
EAN: 0666389593023