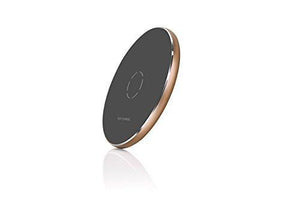 Brand: fatu
Color: Gold
Features:
* EFFICIENT CHARGING This fast wireless charger will charge your device 1.4x faster than traditional wireless chargers. Its smart induction coil allows a high conversion rate of over 76% which enables less battery drain and faster-charging speed. Every 30 minutes your device will charge about 20% and takes less than 3 hours to fully charge for Samsung S8. Very quick compared to original charger.
* WIRELESS & CONVENIENT Simply place any Qi-enabled device on the charging pad to charge your device. Leave behind all tangled up wires or annoying USB plugs. You can still answer a phone call or read the message while it is charging. Automatically powers-off, no need to worry about overcharging. For a better charging experience, we recommend that you remove the phone cover (phone case that is less than 1.18 inch thick is acceptable).
* SAFE & RELIABLE This has the fourth generation fast wireless charger adopted ST chip inside, that ensures a consistent stable performance, radiation shielding, making the output quicker, and a better cooling system. Multiple Safe Protection: Overcurrent protection, Overheating protection, High - voltage protection, and Short Circuit protection. Cooling system maintains the temperature of the device at about 30℃ - 40℃, effectively protecting your device and the charger itself.
* HIGH-QUALITY MATERIAL Shell is made of high-quality metal and has a modern feel and design. An anti-slip pad ensures safety for your device during charging. Ultra slim (5mm), palm size (diameter:100mm) and portable. Small enough to carry in your handbag or backpack. The built-in soft LED light that will automatically dim (No flashing) so not to disturb your sleep.
Legal Disclaimer: Seller Warranty 1 year
Publisher: fatu
Details: Intelligent blue light, modern sense, soft light makes no influence on sleeping. Package Content 1 x Wireless Charger - 1 x User Manual - 1 x Data USB Cable
UPC: 666628952741
EAN: 0666628952741