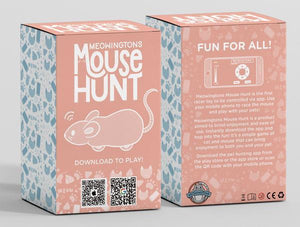 Description
Introducing the Mouse Hunt: the app-controlled cat toy that will satisfy your cat's natural instinct to hunt, while you control the mouse directly from your phone. Just charge the mouse via USB, download the free app and set your cat on the hunt! Precise directional and speed controls allow you to directly control the mouse's speed and movement that will sure to have your cat pouncing into action. 
The Mouse Hunt has a realistic, lifelike mouse design and is equipped to satisfy all of your cat's senses: it looks, moves and acts like a live mouse under your control. It is covered in a soft suede material to excite your cat's sensitive nose; fill the built-in catnip compartment on the bottom of the mouse with fresh catnip to refresh that enticing aroma.
Reaching speeds up to 1.5 meters per second, Mouse Hunt operates on multiple surfaces, from hardwood to tile and even on short carpets and area rugs! With lightning-fast USB charging and included USB charger, you'll have everything you need to get your cat on the hunt in no time at all. 
Mouse Hunt must be directly controlled by the user and does not have an automatic mode at this time. 
We've been working our tails off on this project and we're very excited to be sharing it soon with the Meowingtons family!
Mouse Hunt Cat Toy Includes:
1 Electric Mouse Toy
1 USB charging cable
Measurements: 5" x 2"
Includes free mobile app download for iOS and Android devices
Connects via Bluetooth
Built-in catnip compartment for fresh catnip
Operates on smooth surfaces and short carpets/rugs